Hard, 10th November 2015
ALPLA is Austria's leading recruiter in the industrial sector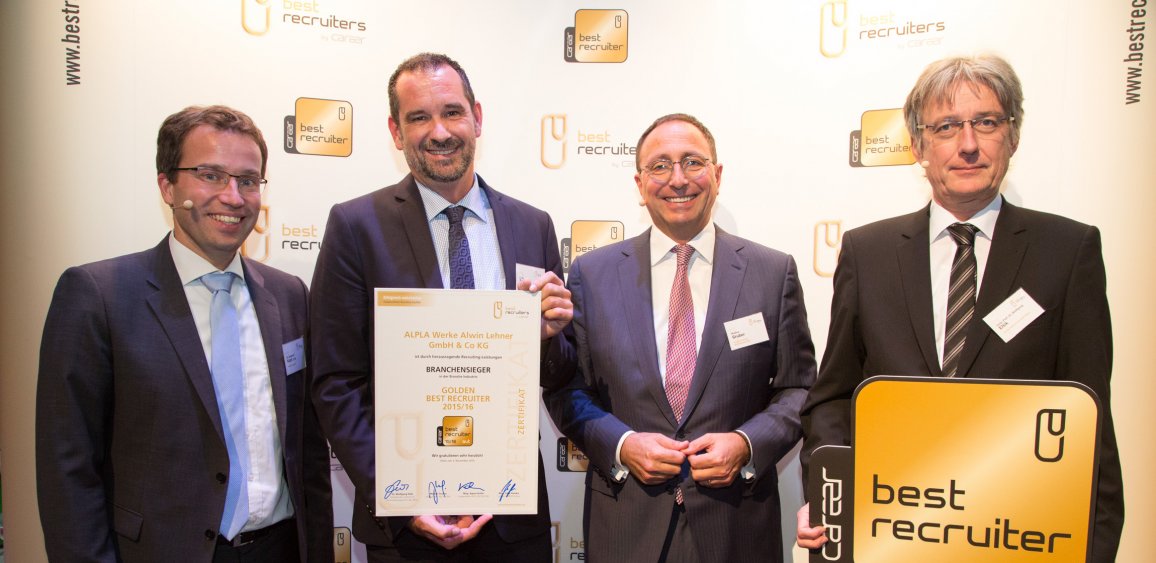 Best recruiter study 2015/2016: Awarded the golden quality seal
ALPLA is one of Austria's leading recruiters. The packaging specialist received the golden quality seal for the industrial sector at this year's Best Recruiters study. Its nomination for the Betrieblicher Sozialpreis 2015 (Business Social Award) underlined the commitment of the family company to its employees.
ALPLA also achieved excellent results in the Best Recruiters study in previous years. This year, the company met the requirements for the golden quality seal for the first time, making it the leading Austrian company in the industrial sector. ALPLA was ranked 26th place overall of the 500 employers examined. At the official ceremony on 3 November 2015 in Vienna, Uwe Breuder, Head of Human Resources at HQ Hard, was presented with the award.
"This industry victory highlights the effectiveness of our measures for increasing the professionalisation of staff recruitment and development," says ALPLA CEO Günther Lehner. The implementation of a modern applicant management system, including a career portal (career.alpla.com) and internal recruiting portal, is just one example of the many projects completed. "This evaluation confirms that the standardised HR processes have been introduced successfully at all Austrian locations and are working well," Lehner continues. In addition to its headquarters in Hard, ALPLA also operates production sites in Fussach, Steinabrückl and Waidhofen.
In the right place at the right time
"As a technology leader, we need the very best employees. The selection of employees is just as important as providing advanced training to our employees in our ALPLA Academy," says Lehner. Uwe Breuder adds: "Our vision is to find the right people at the right time for the right positions, and to build a reputation as an attractive employer."
Business Social Award 2015: Nomination for ALPLA Kids
With its submission for the Business Social Award 2015, the ALPLA Kids nursery made it into the top ten. The certificate of recognition for the nomination was presented to the company by Minister for Social Affairs Rudolf Hundstorfer on 3 November 2015. "As a family company, we feel very passionately about childcare at Hard. Being recognised for having one of the top ten projects in Austria gives us great motivation for the future," says HR manager Uwe Breuder.
Information about the company: www.alpla.com
About ALPLA
ALPLA is one of the leading companies in the area of packaging solutions and is renowned throughout the world for producing plastic packaging of the highest quality. Around 16,000 employees at 154 locations across 40 countries produce high-quality packaging for brands in the food, drinks, cosmetics and cleaning industries. ALPLA celebrated its 60th anniversary in 2015.
About Best Recruiters:
Best Recruiters examines the recruiting quality of the top 500 employers in Austria, Germany and Switzerland each year. The aim of the scientific study is to improve the professionalisation of the staff recruitment process from a conceptual and operational perspective. A catalogue comprising 106 criteria examines the recruiting presence, online job advertisements and markets, as well as treatment of candidates and feedback. (www.bestrecruiters.at)
Press contact
ALPLA
Erik Nielsen
Team Leader Corporate Communications
+43 5574 602 1701