25th July 2022
People at ALPLA: Interview with Pia Rhomberg
Pia Rhomberg joined ALPLA last year. The young Vorarlberg local was hired as a trainee to assist with the company's digitalisation activities. It soon became clear that Pia was a valuable addition to the ALPLA team and she was offered a permanent position. Less than a year later, she is now a driving force behind the digital change process and will be assuming responsibility for a project in this area soon. We chatted to Pia about her rapid rise through the ranks of the ALPLA IT department.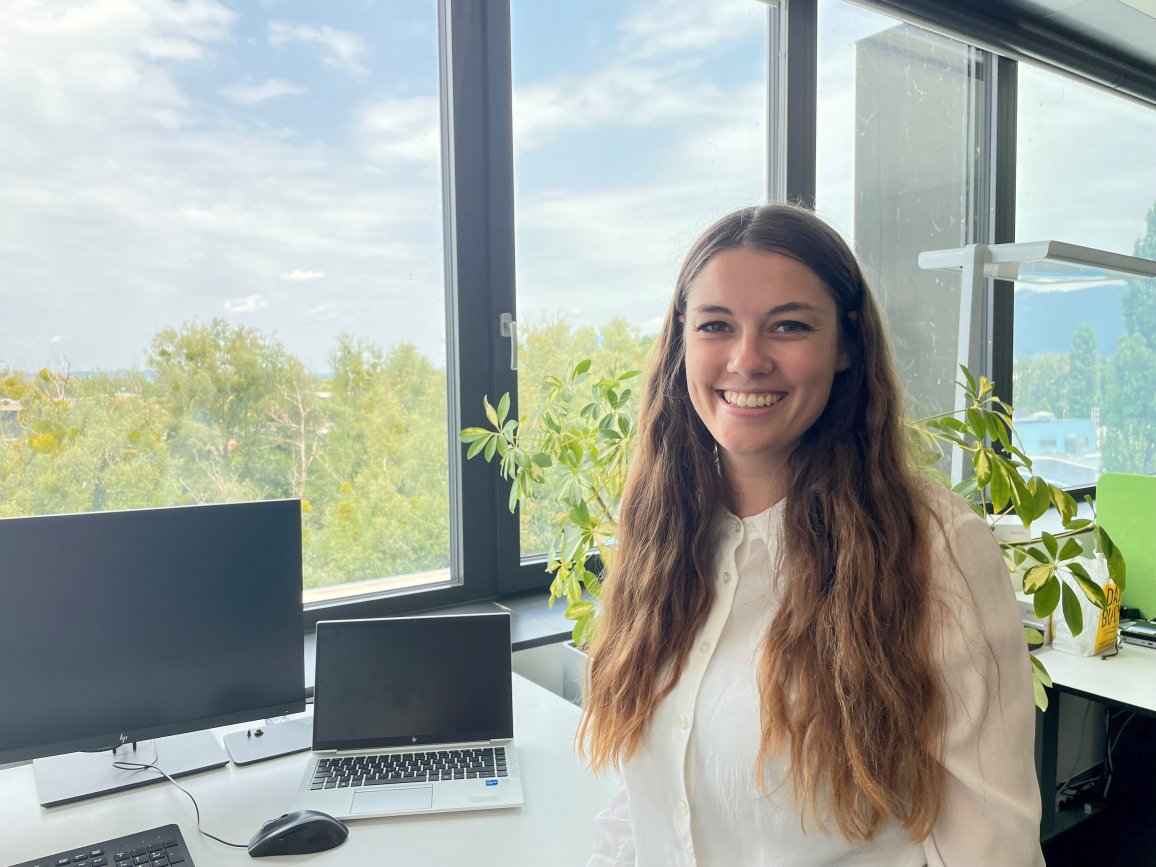 Hi, Pia, thank you for giving us some of your time. Let's get straight down to it. You joined ALPLA as a trainee last year. You are now playing a leading part in our digitalisation measures – what has characterised your first year with ALPLA?
A great deal of change! I started out as a trainee and am now an integral part of a great team. The offer of a permanent position was a wonderful Christmas present for me – I signed the contract of employment just before Christmas. I studied business management at Kufstein University of Applied Sciences in Tyrol. So I joined ALPLA with little knowledge of IT and I am learning new stuff in this area all the time. The training that ALPLA offers is great in this respect.
The job at ALPLA brought change in my personal life too – I moved back to Vorarlberg.
Can you explain what your role is, exactly? What do you focus on?
I mainly deal with adoption and change management and I belong to the Corporate IT department. I put together teaching documents with project manager Evelyn Igerz and in consultation with other departments. We have defined our own learning path and have just started an extensive series of training sessions. As well as working on the content of the training measures, I promote the content internally. I have also held a number of training sessions myself on the topic of our digital workplace and I offer my co-workers direct assistance if they are having problems with the new tools. I have therefore received a great deal of feedback, and this is then incorporated into new communication and learning measures. 
On the whole, my role is very varied and I have a lot of dealings with co-workers in other departments too. That's something I really enjoy.
Where do you get your enthusiasm for IT from? Why specifically did you choose this career path?
It was down to (good) luck that I ended up in the IT department. While I was studying for my bachelor's degree at Kufstein University of Applied Sciences in Tyrol, I wrote two dissertations. In the first one, I looked at how the process from order placement through to invoicing could be digitalised. This made me realise that an important factor when it comes to change is the employees themselves. Based on this insight, my second dissertation focused on how to handle the employees during a change process, with working from home used as a concrete example. The advertised trainee position in the field of adoption and change management was therefore a perfect fit for me and I was delighted when I learned I had the job.
I had already garnered some experience with SharePoint and Teams during my studies. And I am now continuously acquiring new knowledge in the area of IT. My co-workers are a great support and I am continuously attending training sessions. And week by week, I am becoming more of an IT expert.
 
IT experts are in great demand. Why would you recommend ALPLA as an employer to an IT expert?
There are various benefits of working at ALPLA. As already mentioned, I personally make a lot of use of the extensive training opportunities ALPLA offers. For example, to complement my IT knowledge, I will soon be attending a project management course. I also really like my workplace. There's a really nice work atmosphere on the fourth floor of the IT building – we joke around and we often all take our lunch break together too. It makes working there every day really nice. Then there's the wonderful view of the countryside and the proximity of the lake.
Away from my department too, there are all kinds of great opportunities. As we have a lot to do with all kinds of departments, we are given an insight into all the different areas and get to know people from all over the world. There are all kinds of sport and leisure opportunities as well as language courses – I'm currently taking a Spanish course.
I don't simply work for the new digital workplace – I benefit from it myself too. In Hard, we are entitled to work from home on some days. The new work time model is generally super in this respect because it enables me to fit my work around my free time. This has a hugely positive impact on my work-life balance.
 
What, for you, characterises the ALPLA spirit, the Family of Pioneers?
A number of things. I am thrilled, for example, that we at ALPLA pointedly talk about sustainability and are very active in social media in this area too. Our CEO Philipp Lehner is even on TikTok now and gives insights and also feedback there.
In my area of the digital workplace, I have dealings with a lot of dedicated co-workers who are interested in making their day-to-day work more efficient with new tools and functions. We even have a 'Digital Pioneers community' here in which a whole lot of experience and knowledge is exchanged.
Outside of work, what does Pia Rhomberg get up to in her free time? Do you maybe have an unusual hobby?
As a Vorarlberg girl, activities in the mountains are a must – I ski and snowboard and I occasionally like to go on an easy ski tour. I also play fistball with the team Turnerschaft Schwarzach. Spending a lot of time with family and friends is important to me. I really enjoy the bike rides I regularly go on with my grandpa, for example.
 Many thanks for our lovely chat, Pia!
Media
Do you like our texts? Perhaps even so much that you want to use them in your own media? Then please get in touch with us beforehand!