Amsterdam/Hard, 11th June 2019
The Recyclate Initiative's joint appearance at PLMA 2019
Everyone's talking about plastics recycling, with more and more consumers demanding sustainable packaging solutions. At the PLMA – the global trade fair for private labels – ALPLA, the PET Recycling Team and their partners demonstrated how the circular economy can work today.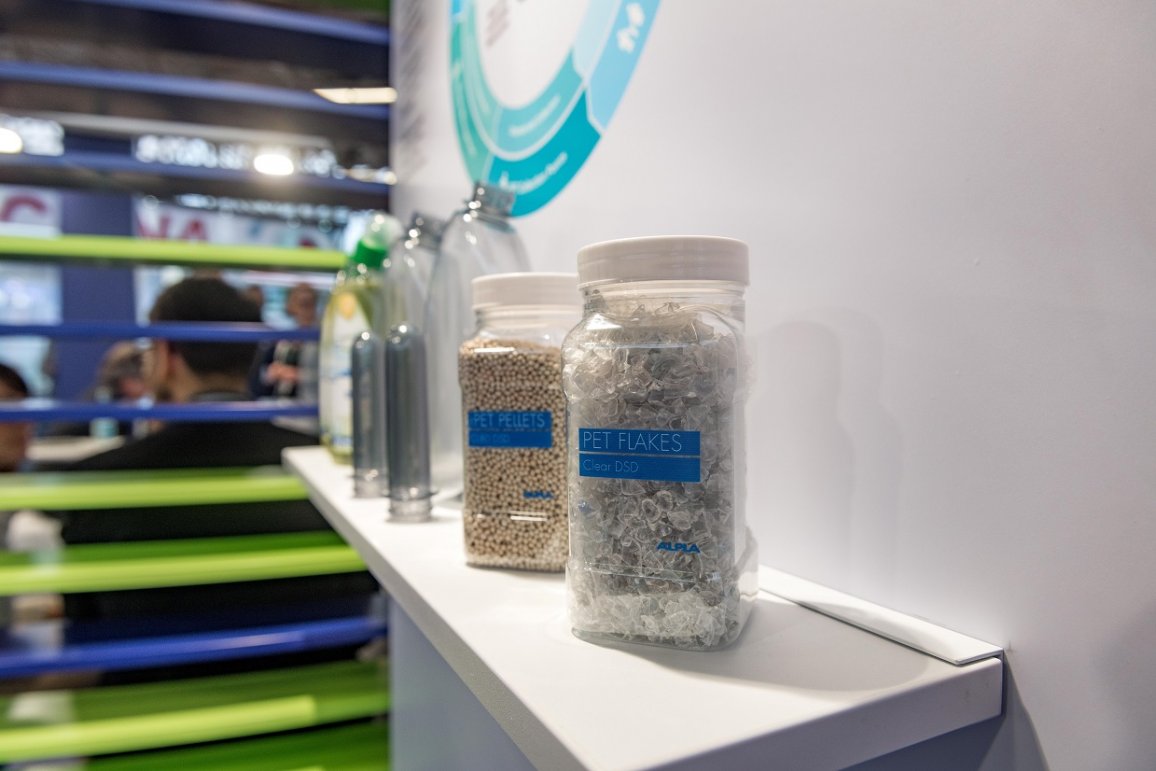 For the second time, the PET Recycling Team appeared alongside ALPLA at the Recyclate Initiative stand at the global PLMA trade fair for private labels in Amsterdam.
A prime example of a successful material cycle
What makes the Recyclate Initiative and its stand so unique is the fact that it doesn't show just one aspect of the process, but covers the entire material cycle of various companies as a shining example of good, cooperative collaboration:
With ECC Ecological Cleaning and Care GmbH, a brand of the Werner & Mertz Group, a private label joined the booth that packages its products in bottles made from 100 per cent recycled plastic. They served as a good example, proving that it's possible to successfully establish a whole product series featuring high-quality packaging made from recycled materials on the market. Der Grüne Punkt, a provider of take-back systems, plays a role in two material cycles: on the one hand, the company produces high-quality recycled HDPE itself. And on the other, Der Grüne Punkt separates PET bottles from German household recyclables – using this raw material, the PET Recycling Team produces regranulate for the production of new bottles. As a specialist in packaging solutions, ALPLA uses both types of recycled material for the production of bottles and thus starts the material cycle over again. Packaging manufacturer Mondi Flexible Packaging and printing ink manufacturer Siegwerk were also at the stand to present their achievements in the field of sustainable material cycles.
The global trade fair for private labels
With more than 15,000 visitors and 2,600 exhibiting companies from 120 countries at this year's PLMA in Amsterdam, the trade fair offered the optimal platform for positioning the topics of material cycles and plastics recycling in a trade-related B2B environment.
Sustainable packaging solutions proved to be a popular topic. Lots of visitors and exhibitors visited the joint stand to acquire useful input on the collection of valuable materials and recycling, PET and HDPE bottles made from 100 per cent recycled plastic, recyclable stand-up pouches and printing inks which are chemically aligned with the recycling process. Trade fair visitors asked highly detailed questions about the availability of recycled materials, the recycling process itself and, in particular, the challenges of manufacturing high-quality recycled materials.
Trade fair summary
There's a great deal of interest in recycling. With our appearance at the trade fair, we not only intensified the awareness of recycling among trading companies and producers of private labels and brand products, but also established valuable contacts with potential partners of ALPLA and the PET Recycling Team. After all, only in cooperation with partners who take sustainability and circular economy as seriously as we do, can we master the challenges that face the plastic packaging industry both today and in the future.
Do you like our texts? Perhaps even so much that you want to use them in your own media? Then please get in touch with us beforehand!