Golborne, 7th October 2019
United Kingdom: Food-grade HDPE recycling champion
Every HDPE milk or juice bottle that has been produced in any ALPLA plant in the United Kingdom must consist of at least 30 per cent rHDPE. An amazing achievement that has been reached with strong partners, future-oriented customers and clear goals set by the management.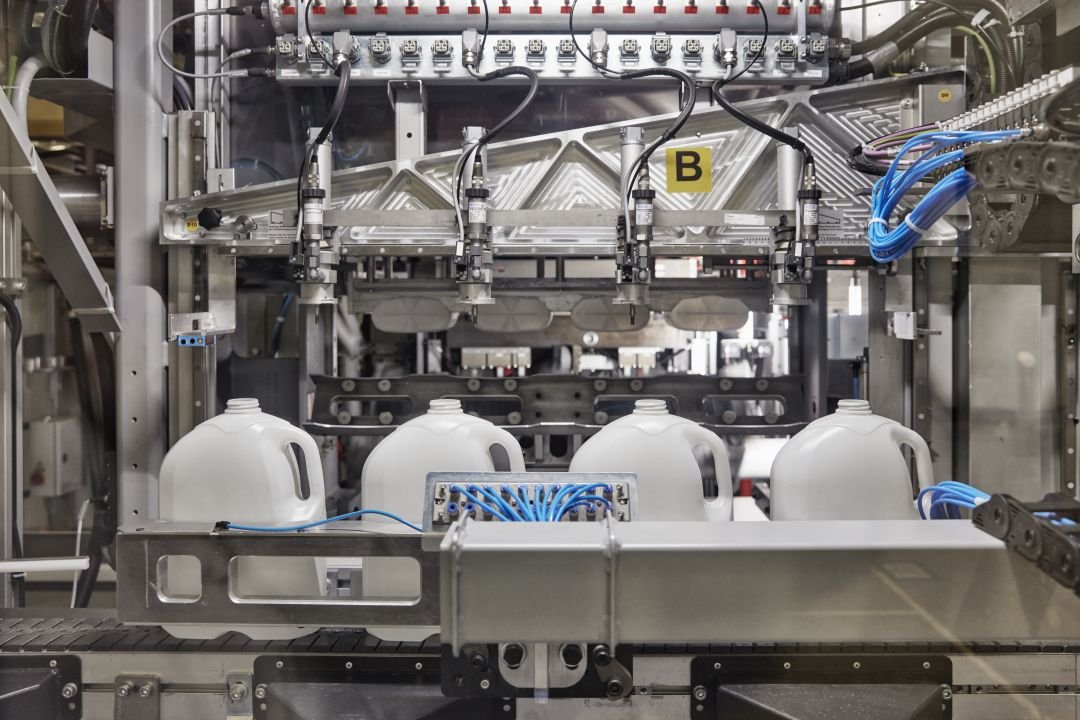 Have you ever tried to buy milk in the United Kingdom in a carton? Or any packaging other than HDPE? That might be a hurdle, since 90 per cent of milk in the United Kingdom is sold in HDPE bottles – this makes an annual market volume of 2.3 billion bottles. What to do with so many bottles of one type? Recycle them, of course!
Recycling of HDPE – the (im)possible
Nowadays, recycling PET is pretty much common practice in Europe and many other regions. But HDPE is a more difficult story: the chemical composition of the plastic is aligned to the needs of the bottle's content – packaging for aggressive detergents needs more additives than milk bottles, which are in the best case free of any modifications.
In most countries, recycling HDPE implies an inevitable loss in quality and an amalgamation of food-grade and non-food-grade HDPE – therefore, the recyclate cannot be used for any applications that require high-quality material or need to meet certain food standards. But not in United Kingdom. Although the country is facing the same issues as any other country in implementing an efficient, end-user-friendly recycling stream, recycling milk bottles is a constantly growing success story.
Back in 2008, the British government decided to push towards a closed-loop recycling cycle for milk bottles made of food-grade HDPE. In most regions, milk bottles are collected via the general household waste collection, then sorted according to their typical form and size. Thanks to this mono-fraction recycling of milk bottles, British rHDPE has an excellent quality and meets all requirements for use in food packaging.
Today, the recycling rate of HDPE milk bottles in the United Kingdom is between 15 and 40 per cent, with processing output of around 26,000 tons of recycled food-grade polymer, which is converted back into milk bottles. Several initiatives are ongoing and investments are being made to increase the recycling rate as well as the output even further.
The most sustainable milk packaging
The well-established food-grade material HDPE circular economy stream, which is well accepted in the United Kingdom, offered ALPLA a unique opportunity: following a decade of development and implementation efforts, the team in the United Kingdom was finally able to introduce a minimum quota of recycled material for a certain product type.
To cite Tasos Pourloukakis, UK Country Managing Director at ALPLA Group: 'With a minimum of 30 per cent rHDPE in our milk and juice bottles, we are definitely the front runner – not only within the bottle producers in the United Kingdom, but also within the global ALPLA network. My team and I worked hard to achieve this, and we are now of course very proud.' Thanks to the constant investments in food-grade rHDPE recycling, chances are high that the minimum percentage of recycled material in ALPLA bottles can be raised even more in the near future.
But there is more to tell about ALPLA's achievements in the British HDPE bottle segment. The fact that these bottles are made of a minimum of 30 per cent and up to 40 per cent rHDPE is already something to be very proud of. Many of them are produced in-house, right at the customer's plant. This lowers environmental impacts significantly – no secondary packaging, no transportation and thus lower CO2 emissions.
HDPE offers one further major advantage: for most applications, the bottle can be made of natural HDPE. This means no additives, no colouring and no limitation in recyclability. If the bottler's choice is on top one of ALPLA's most lightweight bottles, like the handled bottle EcoBottle at only 21.5 g in the one-litre size and 33 g in the 2.275-litre size, no other packaging manufacturer type can keep up with ALPLA.
Facts ALPLA UK
Number of employees: 667
Base plants: 2
In-house plants: 5
Supplying innovative packaging solutions to market leaders in the British milk and juice industry.
Do you like our texts? Perhaps even so much that you want to use them in your own media? Then please get in touch with us beforehand!