4th May 2020
ALPLA expands PET recycling plant in Poland
A new rPET extrusion system will be going into operation in early May 2020 at the recycling plant PET Recycling Team in Radomsko (Poland). As a result, the capacity for rPET (food grade post-consumer recycled PET) will be doubled from 15,000 to 30,000 tonnes per annum. In this blog post, Georg Lässer, Head of Recycling at ALPLA, will be explaining this new development and more.
'A key target is the expansion of recycling activities by 2025.' Anyone who follows ALPLA on any of the company's various channels is bound to have read or heard this sentence several times recently. At the end of 2018, we signed the New Plastics Economy Global Commitment – an initiative of the Ellen MacArthur Foundation – which, amongst other things, commits us to investing a total of 50 million euros in pursuit of this aim.
We take this voluntary commitment seriously and have initiated several international projects, such as the construction of a recycling plant in Thailand. We are also investing in the expansion and improvement of our existing recycling plants. We aim to process even more recycled material for the bottle-to-bottle cycle and make the production processes at our recycling plants more sustainable by means of modernisation.
New extrusion line in Poland
At the beginning of May, a second rPET extrusion line will be going into operation at our PET recycling plant in Radomsko. The 90 employees at PET Recycling Team Radomsko produce 30,000 tonnes of flakes a year from post-consumer material. Of this figure, 15,000 tonnes a year have thus far been extruded to produce food grade post-consumer recycled PET. With the new system, the capacity will increase to 30,000 tonnes a year.
As a result, we are doubling the capacity for high-quality rPET, which can then be fed back into the bottle cycle. Downcycling (e.g. the use of flakes to produce film or their deployment in the textile industry) will largely be avoided. Instead, 30,000 tonnes of food grade rPET will now be used solely to produce new packaging units for European customers – in keeping with the bottle-to-bottle principle. What's more, all the input material – known as 'post-consumer material' – also comes from Europe, i.e. from Poland and neighbouring countries. The new extrusion system itself is supplied by Austrian firm Starlinger, whose cutting-edge recycling technology ALPLA has been using for many years. Hermann Adrigan from Starlinger also underlines the spirit of partnership: 'ALPLA is a long-standing and important partner for Starlinger. We are proud that we are able to contribute to the success of the Radomsko site by providing a further bottle-to-bottle PET recycling system.'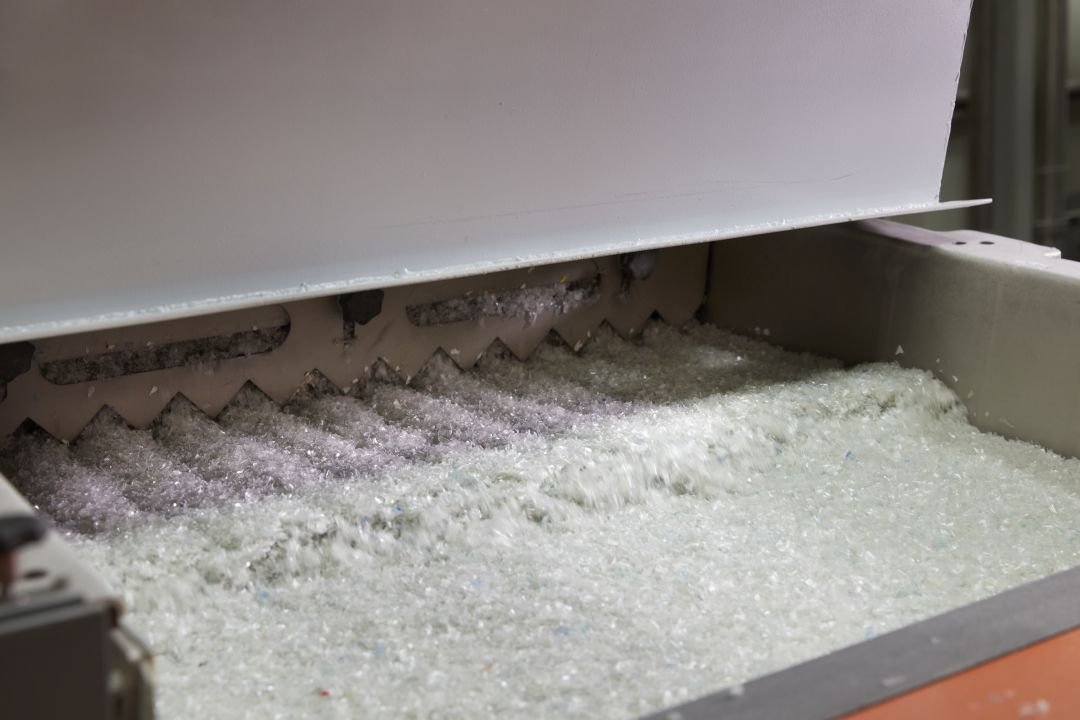 Green electricity improves carbon footprint
In addition to the technical expansion of the plant, its energy supply has been switched fully to renewables. As shown by the carbon footprint calculation performed by independent consultancy firm c7-consult, the production of one kilogram of recycled PET only generates 0.27 kilograms of carbon equivalent. This corresponds to 88 per cent (or eight times) less greenhouse gas than the production of virgin material (2.19 kg of carbon equivalent according to PlasticsEurope).
Forward-looking strategy
As an international developer and manufacturer of plastic packaging, ALPLA recognised the importance of recycling at an early stage and was already entering into partnerships in the early 2000s. The acquisition of Austrian company PET Recycling Team Wöllersdorf in 2010 and the construction of an in-house recycling plant in Poland in 2012 were milestones on the evolution of ALPLA into a recycling specialist.
However, demand for recycled plastic has not always been as high as it is today. When the plant in Poland opened its doors in 2013, this was certainly the case, particularly in this region. Back then, there was hardly any awareness amongst consumers and customers regarding the recycling of used materials. Nevertheless, our experts designed the plant with foresight, enabling it to be upgraded quickly and without further construction measures. This approach is now paying off.
'Over the years, PRT has held its own in a challenging market environment, helping to ensure that PET packaging units are seen as recyclables. Our market is now ready and, with the new set-up, we are in a strong position to make high-quality rPET in the most sustainable way possible' explains Beata Szynkiewicz, Commercial Director at PRT Radomsko. Her colleague Marcin Jablonski, Plant Manager since 2014, adds: 'By using green electricity, we are, in my opinion, taking the logical next step in our strategy. We are transforming used materials into recycled materials in the most energy-efficient way possible for industry, helping to ensure a functioning circular economy, preventing litter and, at the same time, contributing to the fight against climate change'.
Do you like our texts? Perhaps even so much that you want to use them in your own media? Then please get in touch with us beforehand!