Hard, 31st October 2018
2025 targets: complete recyclability, more recycled materials
ALPLA signs New Plastics Economy Global Commitment
The Austrian family company ALPLA has always been aware of its responsibility for the environment and future generations. Now, the international manufacturer of plastic packaging has signed up to ambitious targets as part of the New Plastics Economy Global Commitment led by the Ellen MacArthur Foundation, in collaboration with UN Environment.
In accordance with the company's sustainability strategy, ALPLA is showing its commitment to recycling in the future. All packaging solutions should be fully recyclable by 2025. The volume of processed post-consumer recycled materials should rise to 25 per cent of total material usage by this time. €50 million is being made available for the expansion of recycling activities. The technology leader is also planning to introduce at least three packaging solutions per year that are particularly lightweight in order to reduce material consumption. All packaging will remain completely free of PVC. ALPLA drew up these individual targets based on the specifications of the New Plastics Economy Global Commitment.
On the way to a more efficient circular economy
'With this official commitment, we are joining other companies and organisations that have set good examples. We want to play an active role in paving the way towards an efficient circular economy in the packaging industry,' says ALPLA CEO Günther Lehner. 'We are proud to be a signatory of the New Plastics Economy Global Commitment. We will successfully implement these ambitious targets with the active support of our employees.'
During the 'Our Oceans' conference on 29-30 October in Bali, the Ellen MacArthur Foundation introduced the New Plastics Economy Global Commitment.
More information about the company: www.alpla.com
Also visit: sustainability.alpla.com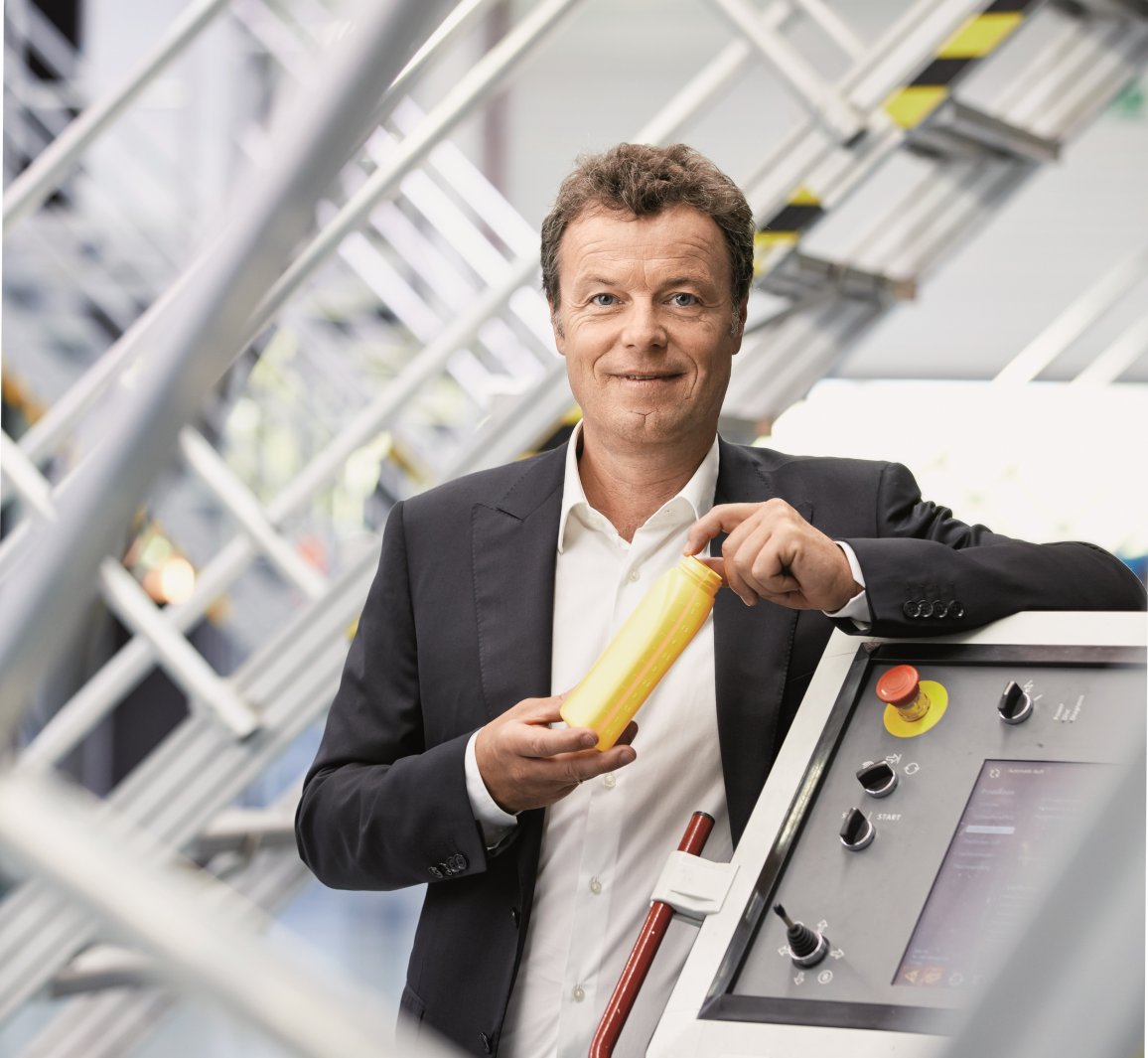 About ALPLA:
ALPLA is one of the leading companies involved in plastic packaging. Around 19,300 employees worldwide produce custom-made packaging systems, bottles, closures and moulded parts at 176 sites across 45 countries. The high-quality packaging is used in a wide range of areas, including for food and drinks, cosmetics and care products, household detergents, washing and cleaning agents, pharmaceutical products, engine oils and lubricants. ALPLA operates its own recycling plants: PET Recycling Team with two sites in Austria and Poland, and in the form of a joint venture in Mexico and a cooperation in Germany. ALPLA celebrated its 60th anniversary in 2015.
The Ellen MacArthur Foundation:
The Ellen MacArthur Foundation was launched in 2010 to accelerate the transition to a circular economy. The Foundation works across key areas including insight and analysis, business and government, learning, systemic initiatives and communications.
Further information: ellenmacarthurfoundation.org | @circulareconomy
The New Plastics Economy:
Over the past four years, the Ellen MacArthur Foundation's New Plastics Economy initiative has rallied businesses and governments behind a positive vision of a circular economy for plastics. Its 2016 and 2017 New Plastics Economy reports captured worldwide headlines, revealing the financial and environmental costs of waste plastic and pollution. In the last year it has brought together 15 leading companies committed to work towards 100% reusable, recyclable, or compostable plastic packaging by 2025. The Global Commitment takes this work to the next level – creating a global coalition of leaders with the power to prevent plastic pollution at the source.
The initiative is supported by Wendy Schmidt as Lead Philanthropic Partner, the Global Environment Facility (GEF), MAVA Foundation, Oak Foundation, and players of People's Postcode Lottery (GB) as Philanthropic Funders. Amcor, The Coca-Cola Company, Danone, L'Oréal, Mars, Incorporated, Novamont, PepsiCo, Unilever, and Veolia are the initiative's Core Partners.
Further information: newplasticseconomy.org | @NewPlasticsEcon
Media
Press contact
Pzwei
Werner F. Sommer
+43 699 1025 4817