11th December 2018
This innovation combines the benefits of EBM and PET
The development of sustainable plastic packaging will not happen overnight. At ALPLA, we have been working on continually improving our packaging solutions for a long time. Our latest innovation, EBM PET, also proves that sustainability and attractive design are not mutually exclusive.
By signing the global commitment to the New Plastics Economy in October 2018, ALPLA has set itself ambitious targets for 2025. By 2025, all packaging solutions should be fully recyclable and recycled materials should account for 25 per cent of all material usage. These targets are in line with our sustainability strategy which we have been following for many years. EBM PET is the best evidence of this and a milestone on the way to an efficient circular economy.
ALPLA experts have worked meticulously on this across all levels – from custom machines to materials. However, one thing at a time, because this innovation offers some benefits that we want to address in detail.
Attractive design
The production technology EBM (Extrusion Blow Moulding) offers considerable freedom in relation to the design of packaging solutions. There are practically no limits on the potential designs. Bottles with or without a handle, with large or small volumes, oval, round or angular forms with variable neck diameters. This makes EBM a good option for premium products, which are typically looking to stand out from rival products in their design and function. With EBM PET, ALPLA combines these benefits with the benefits of PET.
Sustainable packaging, transparent and light
PET is a popular material at the present time for many reasons. This is in particular due to its transparency and good recycling capability. Recycled PET is also widely available. The demand for PET packaging therefore continues to grow.
Very strong recycling systems have already been established in many European countries, ensuring high return rates. One such example is the deposit system in place on PET drinks bottles in Germany. Over 90 per cent of post-consumer bottles pass through this step. The material is processed and used for new bottles. We need to work on these types of systems, expand them and establish them worldwide. This enables sustainable packaging solutions that are shatterproof, transparent and lightweight. ALPLA is already producing packaging made entirely from recycled PET.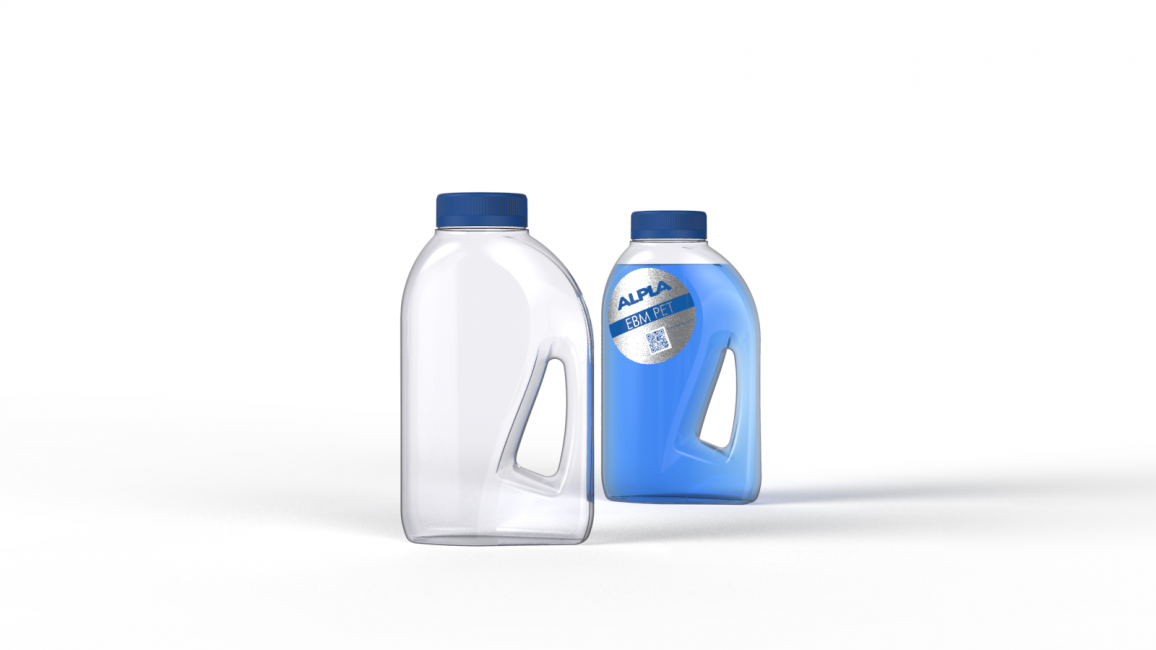 For an efficient circular economy
In the recent past, new special semi-crystalline PET virgin materials were developed for EBM, which, unlike commonly used amorphous copolyesters such as PETG, are compatible with the PET recycling stream. However, ALPLA experts went one step further: the use of regranulate preserves fossil fuels and reduces CO2 emissions significantly and so it was therefore suggested that the PET regranulate be modified so that it is suitable for extrusion blow moulding. This development plays an important role in the implementation of the bottle-to-bottle principle. Plastics used are not disposed of, but are reused and processed into new, fully functional plastic solutions.
Tailored machine platform
With all these special requirements, it is clear that EBM PET calls for tailored production processes. Experts worked on the necessary adaptations to our specially optimised machine platform for almost two years. The machine platform itself is now one of the most efficient worldwide. We can also install them in the form of an in-house solution directly at our customers' sites. We integrate the production of bottles into our customers' production process to save on transport and packaging. This further reduces the ecological footprint.
With EBM PET, ALPLA offers a comprehensive system solution:
PET regranulate for use in EBM technology
EBM PET packaging solutions are fully recyclable in an established circular economy
Use of 100% PET regranulate possible
Tailored production platform, extremely energy efficient and space saving
In-house solution possible: production of packaging at the customer's location saves transport and repackaging and reduces CO2 emissions.
Do you like our texts? Perhaps even so much that you want to use them in your own media? Then please get in touch with us beforehand!