20th April 2023
Trailblazing closure for Pfanner drink cartons
Fruit juice and iced tea manufacturer Pfanner Getränke is rolling out its first few containers with closures that remain firmly attached to the packaging. The international, Vorarlberg-based family company relies on a lightweight, resource-saving and optimally recyclable solution from ALPLA for its two-litre composite cartons.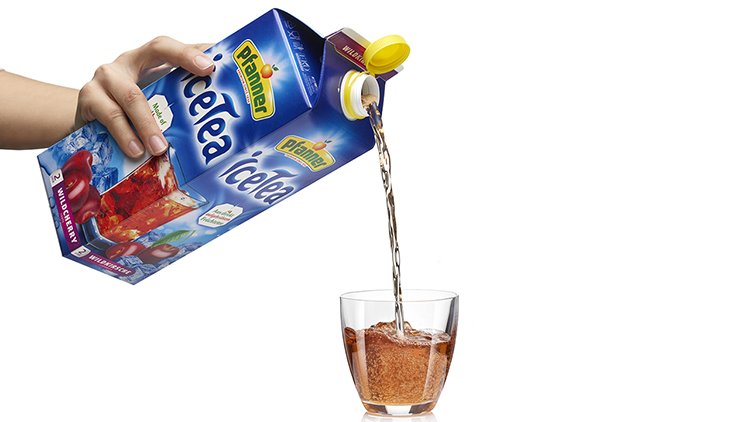 Keeping a lid on it: starting in July 2024, all caps on drink bottles or composite cartons in the EU must remain attached even after the bottle or container has been opened. The tethered caps are intended to reduce the amount of waste entering the environment and increase the recycling rate. As a specialist in innovative packaging solutions and a major player in the closure market, ALPLA was also involved intensively from early on to develop tethered caps and brought four customisable variants to market maturity. Austria's mineral water market leader Vöslauer, for example, has been successfully using an ALPLA-provided leave-on cap since summer 2021.
Fruit juice and iced tea manufacturer Hermann Pfanner Getränke GmbH is also already implementing the new EU directive. With ALPLA, it has found the perfect partner for tethered caps. The two family companies from Vorarlberg, Austria, are now starting to convert to the new plastic lids. The two-litre beverage carton made of composite material will be the first to have it, with all other containers to follow by July 2024. 'Our sustainable closure solutions are suitable for a wide range of packaging types and formats. The container does not necessarily have to be a PET bottle, and our cooperation with Pfanner is excellent proof of this,' says Michael Feltes, ALPLA Global Business Development Director IM. 'Tethered caps are a challenge for the beverage industry. We benefit from ALPLA's expertise and flexibility, saving on the costs of time-consuming development and conversion,' reports Peter Pfanner, Managing Director at Hermann Pfanner Getränke GmbH.
Technological expertise and short distances
ALPLA manufactures the innovative caps at its Austrian plant in Fußach, just a stone's throw from Pfanner's headquarters in Lauterach. The short distances helped with the rapid realisation of the project and contributed to the early conversion – without any adaptation of the bottling lines. The team in Fußach is specialised in producing tethered caps through injection moulding and in recent years has developed know-how and capacity to produce its own designs. This made it possible to create lighter closures with a lower cost of materials than conventional solutions. 'Our technological expertise, the shared vision and the great mutual trust allow us to lead the market,' emphasises Plant Manager Daniel Gut.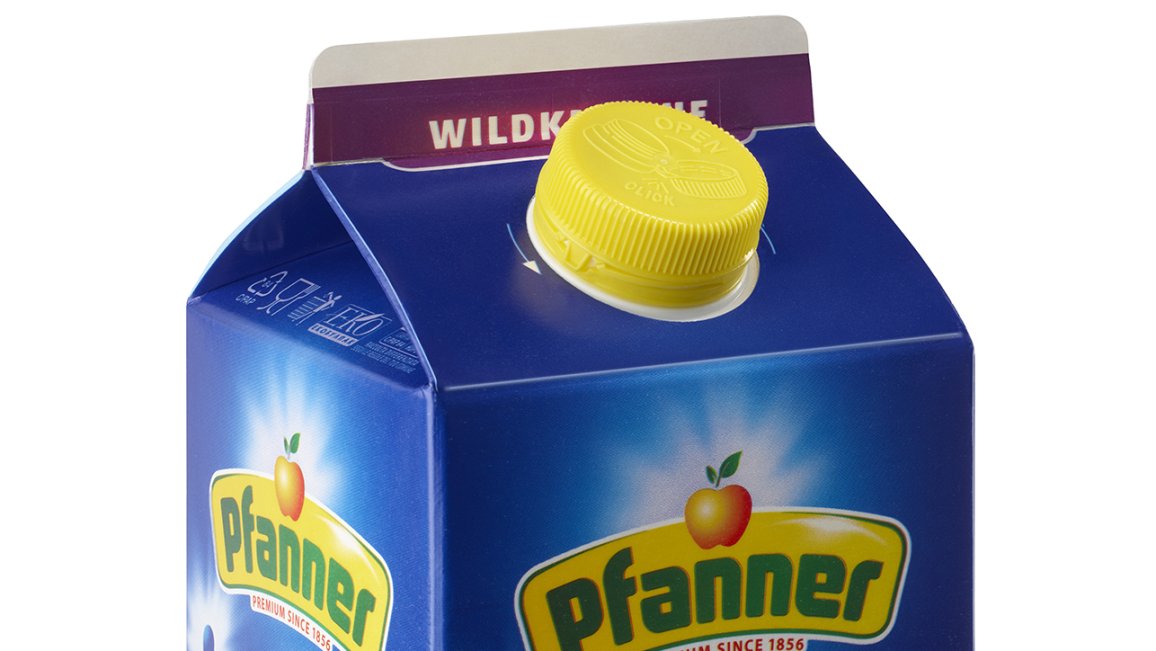 The click variant customised for Pfanner is a version of the ALPLA Soul solution. The cap can be bent up by about 160 degrees after opening and locks into place after a click to prevent the cap from springing back. This makes it possible to pour – and drink – from the carton safely. 'We want to make the switch to the new caps as pleasant as possible for our customers. This simple, safe and convenient solution became a success very quickly,' says Peter Pfanner with satisfaction. In addition to Soul, ALPLA also offers three other innovative tethered caps called Dance, Relax and Jazz. They are for use with beverage containers of up to three litres.
About Pfanner Getränke
Hermann Pfanner Getränke GmbH was founded in 1856 and is entirely family-owned. The fruit juice and iced tea manufacturer employs roughly 1,000 people and generated sales of 362 million euros in the previous year (2022). Pfanner Getränke has five production sites in Austria, Germany, Italy and Ukraine. The company operates in 80 countries and has an export share of 80 per cent. Its main markets are Germany, Austria, Italy and the Czech Republic.
More information: www.pfanner.com
For further information on this product and on ALPLA's closure solutions, please contact Andreas-Thomas Meyer, Head of Sales & Projects Fußach.
Do you like our texts? Perhaps even so much that you want to use them in your own media? Then please get in touch with us beforehand!