25th June 2021
Protecting the climate with reusable PET packaging
ALPLA is developing and producing a new reusable PET bottle for Vöslauer, Austria's leading company in the mineral water market. The bottle is not only sustainable, but also light, stable and visually appealing. The new bottle will enter the market in early 2022.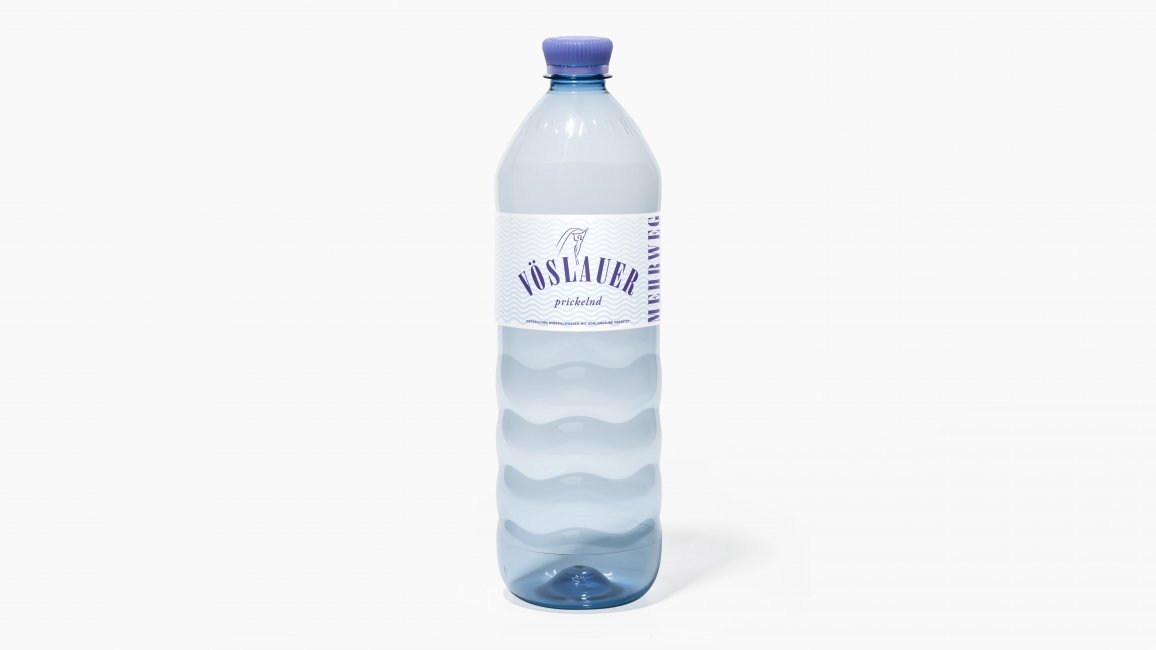 The two family-owned businesses Vöslauer and ALPLA have been jointly championing sustainable solutions for years. The aim is for Vöslauer's natural mineral water to come in packaging which is resource-conserving, light and suitable for everyday use. What's needed are bottles with a modern design that combines innovation with aesthetics. Following the introduction of the 100 per cent rPET bottle (rPET = recycled PET) in 2018, the next step into the future will follow in 2022 with the new reusable PET bottle. As an expert partner, ALPLA is heavily involved in the development and production of Austria's first modern reusable PET bottle including the closure.
Light, stable, climate-friendly
Reuse results in added value. Cycles and environmentally aware consumption are crucial if we are to handle our planet sustainably. For both of these to be possible, it takes innovation. And now reusable PET packaging is coming into the picture, following on from what is the most climate-friendly water bottle made of single-use rPET. Of all packaging solutions, reusable PET has the best environmental footprint and causes just 70 per cent of the carbon emissions of reusable glass, as determined by the independent consultancy firm c7-consult in 2019.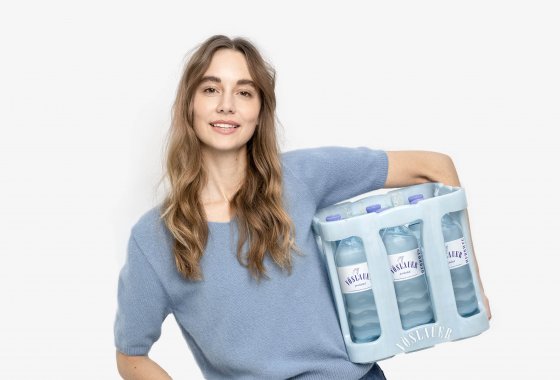 'People want to consume sustainably. There is currently not a single reusable PET product in the Austrian market, even though it's the best solution in this respect,' explains Rainer Widmar, Regional Manager Central and Eastern Europe, at ALPLA. 'We want to offer our customers the best and the most sustainable packaging solution and are delighted to be taking this step with Vöslauer,' he adds.
The new reusable PET bottle developed together with Vöslauer is a good example of how demand, a sense of responsibility, a hunger for innovation and technological expertise can reduce the carbon footprint. Until now, bottles of this kind have been too heavy and not all that attractive. Not least because of this, the range of reusable packaging was therefore limited to glass bottles. Weighing just 55 grams, the new reusable PET bottle is around 90 per cent lighter than the glass alternative. This alone reduces the carbon footprint by approximately 30 per cent. It is also stable and unbreakable, and therefore much better suited to day-to-day use. The matching closure is also being developed.
Recyclable and resource-optimised
The reusable PET bottle which will be available in retail starting in spring 2022 is made entirely of fully recyclable PET monomaterial with a recyclate proportion of around 30 per cent. This proportion is to be continuously increased in the years to come. If it goes through twelve cycles, the bottle can likely remain in circulation for around three to four years. The investment is already good for the climate the first time the bottle is used. Vöslauer will be able to eliminate around 420 tonnes of carbon emissions a year by introducing reusable PET packaging.
'ALPLA continuously optimises the use of resources on the basis of research and development. We are looking very closely at material reduction, alternative materials and caps. Our aim is to be introducing only 100 per cent recyclable packaging to the market by 2025. The proportion of processed post-consumer recycled materials is to rise to 25 per cent of total material usage. To achieve this, ALPLA is investing 50 million euros a year and is continuously developing new and sustainable packaging solutions. Vöslauer's reusable PET bottle is a prime example of this.'
Rainer Widmar, Regional Manager Central and Eastern Europe
Further information on reusable PET bottles at ALPLA.
Three questions for Birgit Aichinger, Managing Director of Vöslauer Mineralwasser GmbH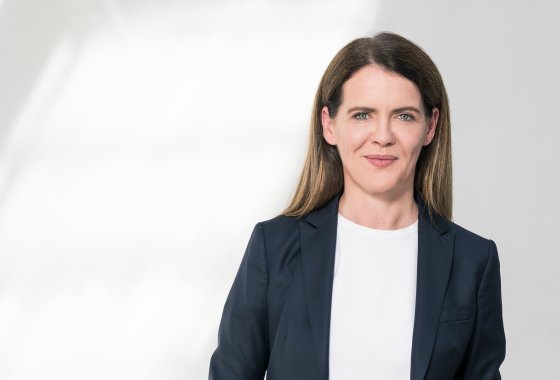 What is the major benefit of reusable PET packaging for Vöslauer?
As pioneers and drivers of innovation in the industry, we are now taking what we consider to be the next logical step and will be the first Austrian company to introduce a modern reusable PET bottle to the market in early 2022. It is the environmentally sensible addition to our existing range and in particular to reusable glass. We are focusing on 100 per cent rPET in the single-use area and on glass and PET containers in the reusable area because we aspire to making every product more sustainable than its predecessor.
And as a market leader in the area of deposits, it was important to us that we introduce a reusable container as an alternative to our 8 × 1 l reusable glass bottle for people who are unable to or do not wish to carry heavy items. The consumers are looking for simple solutions that they can easily integrate into their daily lives in order to live more sustainably. We also make sure our containers match modern-day lifestyles and are practical to use.
How will the consumers benefit from the new reusable PET bottle?
A major advantage of the new reusable PET bottle is an up to 30 per cent reduction in the carbon footprint compared with our existing deposit containers, meaning we are making a major contribution to greater climate protection and are living up to the sustainability expectations of many consumers. In practical terms, the lightweight reusable PET bottle also makes an impression by being 90 per cent lighter than a reusable glass bottle, as well as being very stable and unbreakable. This is an unbeatable advantage in terms of handling and logistics as well as for the end consumers.
Why is Vöslauer now focusing on reusable PET packaging?
Consumer behaviour has changed – climate and environmental protection have become key factors influencing people's purchasing decisions. For many consumers, reusable packaging is also one of the main answers when it comes to sustainability and environmental protection. The technological conditions have improved too – the reusable PET bottle now uses less material and therefore also weighs less than was the case a few years ago. It is stable, attractive and environmentally friendly, and can be more easily integrated into people's daily lives.
Do you like our texts? Perhaps even so much that you want to use them in your own media? Then please get in touch with us beforehand!