5th March 2021
Leaving a lighter footprint on the planet
Susanne Kaufmann launched her own collection of face and body products in 2003. She recently presented an innovative refill system that was developed in cooperation with ALPLA. In this interview she talks about the importance of sustainability and the value she attaches to the packaging of her natural cosmetics.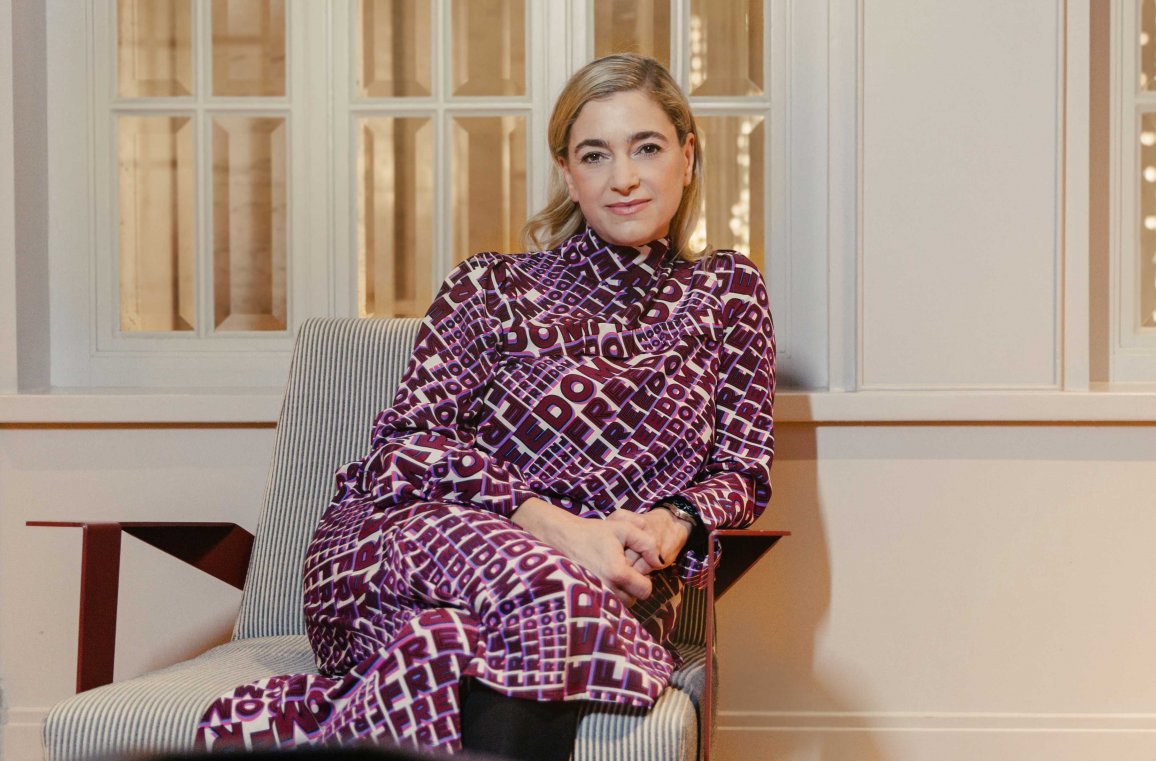 What role does sustainability play in your corporate philosophy, and how do you implement it in the products (such as with raw materials or in production)?
At SUSANNE KAUFMANN, we would never compromise our world when bringing our products to our customers. This belief is reflected in the quality of our products and the way we process our plant-based ingredients. It means everything to me that our impact on the environment be as small as possible, and I see it as our duty to use the most sustainable production technologies and processes in our drive for zero waste and a smaller footprint on our earth.
Many companies like to describe themselves as green because it is on trend. Has sustainability always been part of your philosophy at Susanne Kaufmann?
Sustainability, the use of renewable organic resources, cutting-edge science and intelligent product design have been integral to the development of our skincare range for almost two decades. Ever since the brand's conception, we have championed local production. Combined with the sourcing of local partners and the long-standing cooperation with our suppliers, this gives us a big lead when it comes to sustainability and the implementation of our principles. For me, a sustainable approach must encompass an environmentally friendly manufacturing process and production, innovative and sustainable packaging, and a deep respect for nature and people. This has always been my philosophy. It has always been about the big picture.
And how important is it to you that this attitude is reflected in all areas of your work, including in the packaging of your products?
Since the brand's conception in 2003, we have offered most of our products in recyclable glass bottles. Sustainability is ever evolving. New research and scientific developments open the door to new sustainable initiatives all the time, and as a brand we are committed to implementing the best methods for our products and services.
What do you pay particular attention to during manufacture and packaging?
Our production house runs completely on solar, thermal and green electricity sources. Our long-term production partner, Ingo Metzler, is a real innovator when it comes to sustainable production. One example of a pioneering sustainability initiative currently in place is the state-of-the-art high-capacity emulsion and gel mixing unit that is completely solar-powered. The unique machine utilises thermal energy, 100% of which is obtained from the in-house solar power system. Everything is then recycled, ensuring no energy or water is wasted.
We are committed to providing our customers with sustainable packaging solutions that leave a lighter footprint. We know our customers love our recyclable glass bottles, and we are excited to now offer a refill solution that empowers them to reuse their existing bottles, reducing their carbon footprint and helping us in the fight to protect our planet.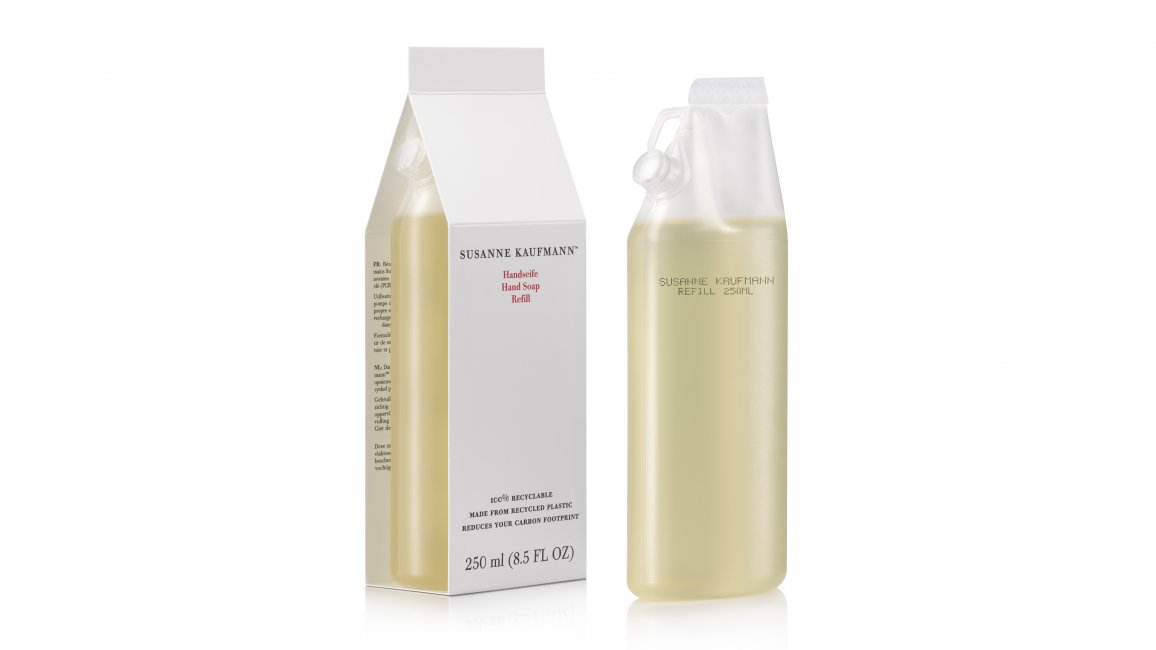 Why did you choose a plastic refill packaging solution?
One of the main goals of our new refill packaging is to considerably reduce the amount of packaging required, while continuously providing an attractive and functional solution. The SUSANNE KAUFMANN refills are made of 75% post-consumer material (rHDPE) and are up to 60% lighter than standard HDPE bottles.
The challenge was to develop packaging using the highest percentage of post-consumer material possible. Due to the fact that the packaging is so thin and light, we worked hard with ALPLA to ensure that the highest standards of quality for the packaging could still be achieved despite using recycled plastic. ALPLA run their own recycling plants to guarantee their exacting standards. They are able to transform recycled plastics into high-quality packaging, such as with the new refills. Our focus is to source packaging solutions that leave a smaller carbon footprint, whilst delivering our natural products as safely as possible to our customers.
How did the collaboration with ALPLA come about, and how would you rate the collaboration?
The Bregenzerwald region of Austria has been home to me and my family for over five generations, and it's where I launched the brand 17 years ago. Having grown up surrounded by such incredible natural beauty, environmental sustainability, regional production and protecting the earth's precious resources have always been my focus and passion.
In keeping with our philosophy, we established a unique partnership with the family-owned Austrian company ALPLA. The refill project has been a labour of love for the past few years. I am very excited for SUSANNE KAUFMANN to be the first brand to offer this innovative new packaging solution. The refills will extend the life cycle of our iconic glass bottles and assist our customers in making more sustainable choices, while supporting our own sustainability journey.
What is the feedback from your customers on this new refill system? Has it been accepted?
The feedback so far has been amazing. When we launched them on our brand website, we had customer sales within minutes of going live. The demand was clearly there. It's wonderful to see that our customers care about their carbon footprints as much as we do.
You are currently offering this refill system for three of your products. Are there any plans to extend this to your other products?
At the moment, three products (Cleansing Gel, Shower/Shampoo and Hand Soap) are available as refills. We are committed to providing our customers with sustainable packaging solutions that leave a smaller footprint and will therefore expand the refill range in the second half of 2021.
Do you like our texts? Perhaps even so much that you want to use them in your own media? Then please get in touch with us beforehand!