16th August 2023
People at ALPLA: Interview with Sreehari Nair
Join us for an engaging interview with Sreehari Nair (50), our Global Head of Business for Pumps and Devices at ALPLA, as he shares his valuable insights and experiences. Having recently moved from India to Austria, Sreehari opens up about the challenges faced in the pumps industry and his favourite projects at ALPLA.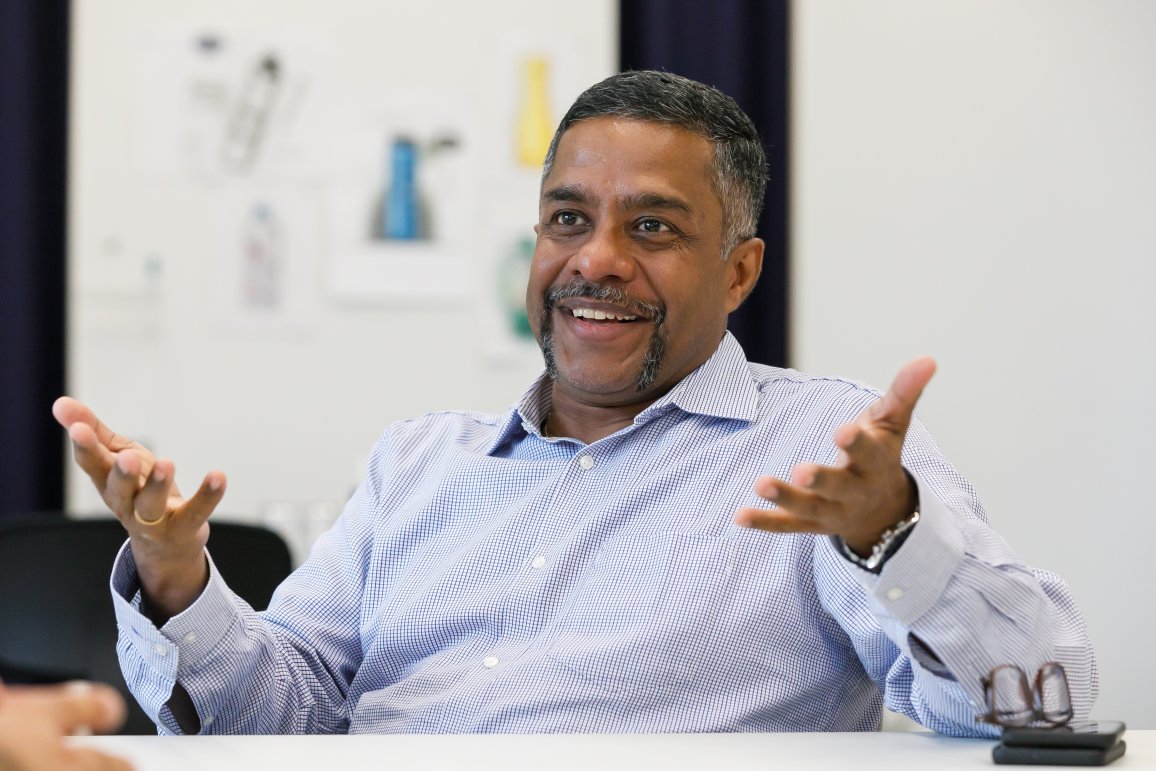 Hi Sreehari, thanks for taking the time to answer some questions about yourself. You have been at ALPLA India for some time, but you've just recently moved to Austria. How do you like it so far?
I have been associated with ALPLA for the last 2.5 years, joining in December 2020. Initially, I started at ALPLA India in Hyderabad, but due to the pandemic, I had to relocate from Delhi to Hyderabad, which presented some challenges. However, I have recently moved to Austria. I feel fortunate to have joined the company right from day one, as all my relocation documentation was completed before this date. The team here has been incredibly cooperative, understanding and friendly, and I have received great support from my seniors both in Austria and in India.
You have come to our company's headquarters because of your specialised knowledge about pumps. Can you explain in simple terms, what the main challenges are in the pumps business?
ALPLA has a long-standing history in injection moulding, operating in many countries worldwide. However, the pumps business introduces additional complexity due to multiple injection-moulded components, some outsourced elements, and, most importantly, the assembly process. Ensuring the highest quality standards for all the components and the final product during assembly is the primary challenge in the pumps business.
What has been your favourite project / your favourite task at ALPLA so far?
Throughout my 2.5 years at ALPLA, I have been involved in several projects. However, my most cherished project is AD-200, a 2cc dispenser that was developed in India. This project encompassed various stages including creating drawings, pilot moulds for six components, commercial moulds and a fully automated assembly machine. Notably, all of these things were sourced from India during the height of the pandemic. The project was particularly exciting as my team and I were new to ALPLA systems, and accessing the global team was challenging at that time. Despite these limitations, we successfully developed a fully operational cell with a capacity of approximately 50 million units. It was a rewarding and stimulating challenge, given the constraints and the limited team available.
Before you came to ALPLA, you worked for other companies in a similar field. What makes working at ALPLA special? What distinguishes ALPLA from other companies?
Over the course of my 22-year career, I have worked with Indian, American and Japanese companies. What sets ALPLA apart is its strong family-oriented culture. The personal connections and relationships within ALPLA are far superior to my previous experiences. This family-oriented atmosphere creates a supportive and collaborative work environment that fosters growth and development.
What does a typical day at work look like for you?
I am an early starter, whether in India or Austria, so my day begins early. I prioritise completing any pending tasks in the morning before moving on to meetings. Staying organised is crucial for me to meet deadlines effectively. I strive to minimise my email inbox by the end of the day, and I prefer not to rely on reminders. This approach helps me maintain productivity and ensure timely completion of my work.
As part of our 'People at ALPLA' interviews, we would also like to find out something about you which is not related to work. So, please allow me to ask some personal questions. If you had to eat one meal every day for the rest of your life, what would it be?
That's an interesting question. While I'm not a big food enthusiast, I believe I could manage with a daily serving of vegetarian Indian food. A meal consisting of rotis (Indian bread), lentils and vegetable curries would suffice.
Name four things on your bucket list:
I always wanted to drive a Mercedes, and I'm grateful to ALPLA for making that dream a reality.
Driving across countries is something I aspire to do, possibly after my retirement, with a customised SUV.
It would be a remarkable experience to be on a commercial flight with my son as either the pilot or co-pilot.
Finally, owning an apartment or house with a sea-facing view is a goal I hope to achieve.
You have arrived in Austria just recently, but you've visited here before. What do you like about Austria most?
I have had the opportunity to visit Austria a few times since mid-2021, primarily in the Hard area and its surroundings. What I appreciate the most about Austria, particularly in Hard, is the serene lake and the clean, pollution-free environment.
And what are you really going to miss, now that you're not living in India any more?
While adjusting to a new country is exciting, there are aspects of India that I will miss. I will miss the vibrancy of big cities, the fast-paced lifestyle and the occasional evenings spent with my school friends during the weekends.
Do you like our texts? Perhaps even so much that you want to use them in your own media? Then please get in touch with us beforehand!