25th October 2022
People at ALPLA: Interview with Patrick Schnetzer
Patrick Schnetzer has been in charge of social media activities at ALPLA since spring. The 28-year-old from the Vorarlberg state of Austria is also an extremely successful cycling athlete. He recently became eight-time world champion in cycle ball, making him one of the best in his field. In this interview, Patrick tells us about his role in the Family of Pioneers, why social media is important for a company like ALPLA and how he himself gained over 40,000 followers on TikTok in a short space of time.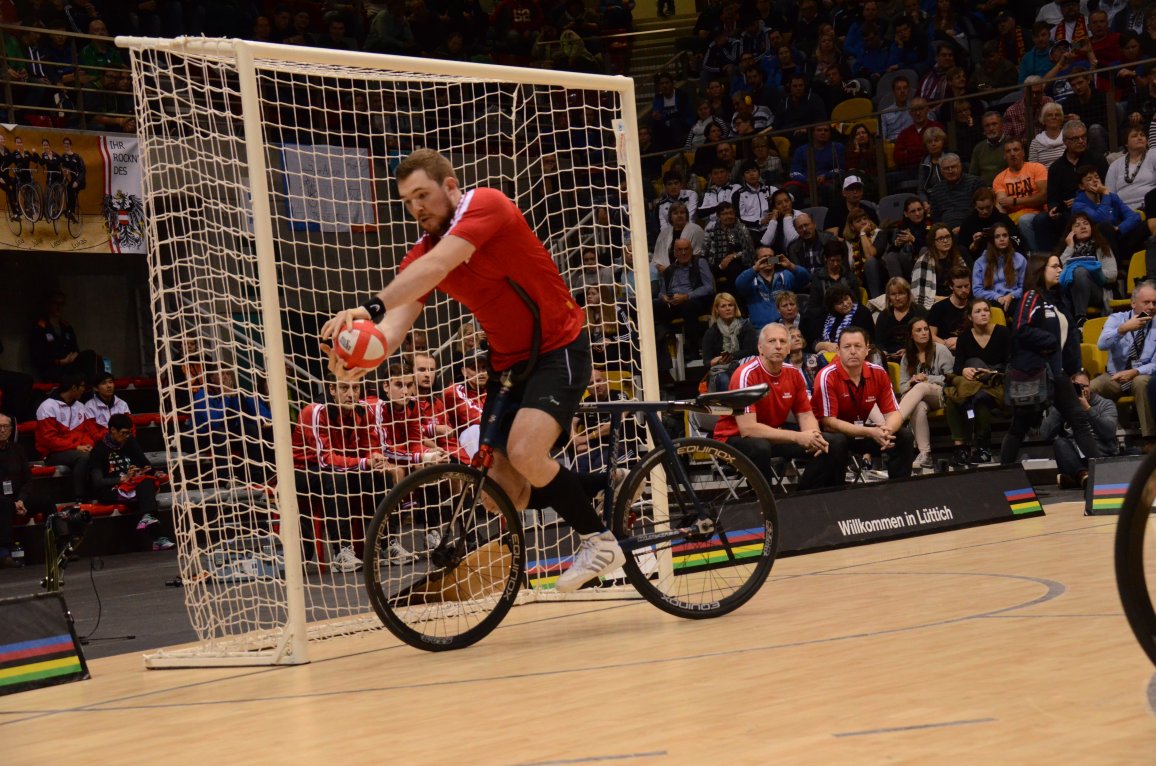 Hi Patrick, thanks for giving me some of your time. What does a social media manager really do?
Thanks for inviting me. The duties of a social media manager fall within several larger categories. Firstly, I manage our social media channels: I fill them with content, create post plans and posts for them; and coordinate topics across the entire company. Interacting with the community is also important. This involves answering questions, providing a response to comments and explaining and giving information about our topics. I also coordinate our campaigns, for which we also publish paid posts. At the end of the day, there is also ongoing performance measurement.
What do you like about your job at our company?
My work is as diverse as ALPLA's business activities. There's always something going on – sometimes a new plant is being opened, or we might get an award or start new initiatives. It's never boring. I also like interacting with our users. When it comes to plastics, people often have very fragmented knowledge and it's particularly important to provide good and accurate information. I also like the fact that we use many different channels at ALPLA. It's really cool that our CEO Philipp Lehner himself gets involved in being active on TikTok and faces the young target audience.
Why is having a good social media presence important to ALPLA?
We live in a very fast-moving time, and social media is part of that. However, social media also offers an opportunity to react quickly and directly. The plastics discussion in particular shows how important it is to actively educate people and actively communicate the sustainability of plastics. For this to work, though, our presence must also be well managed and supported.
Where do we have special areas of focus and which projects do you personally find to be lots of fun?
We set many priorities, but the many regional social media campaigns that we run as part of our aVoice campaign are certainly worth mentioning. Through them, we inform society about the advantages of plastics and use the most attractive channels in each country. And our CEO's TikTok project that we spoke about just before is also a lot of fun. We're convinced that there is great potential here.
LinkedIn is ALPLA's most important channel. How can a company create a successful presence on it?
With us being a B2B company, LinkedIn allows us to reach our customers, suppliers and the entire industry directly. Regular updates and addressing the right target audience are the key to success on it. We also rely on many other channels such as Facebook, Twitter and TikTok.
Speaking of TikTok, you've managed to reach over 40,000 followers in a very short time with your private account: What is the secret of your success?
(laughs) Yes. I actually just wanted to try out the platform privately. Then I realised that my sport cycle ball could be suitable for it and that the platform could promote this niche sport somewhat. So, I uploaded a few videos of my training. At first the response was slow, but then a video went viral and I generated several million views on it. This resulted in quite a lot of followers and I've since crossed the million-view mark on more videos.
You mentioned your hobby: cycle ball. It is a relatively unknown sport – can you briefly explain the game to our readers?
Cycle ball is a unique mix of football and cycling. Two players from each team compete against each other on a 14×11 metre field to manoeuvre the ball into the opponent's 2×2 metre goal. Your feet can't touch the ground as you do this. At the elite level, a game goes for two rounds of seven minutes – that sounds short, but it's pretty exhausting. You need a robust upper body, strong legs and mental strength. I play goalkeeper, although this position is only really relevant for defence – if I play attack, I can score goals, too.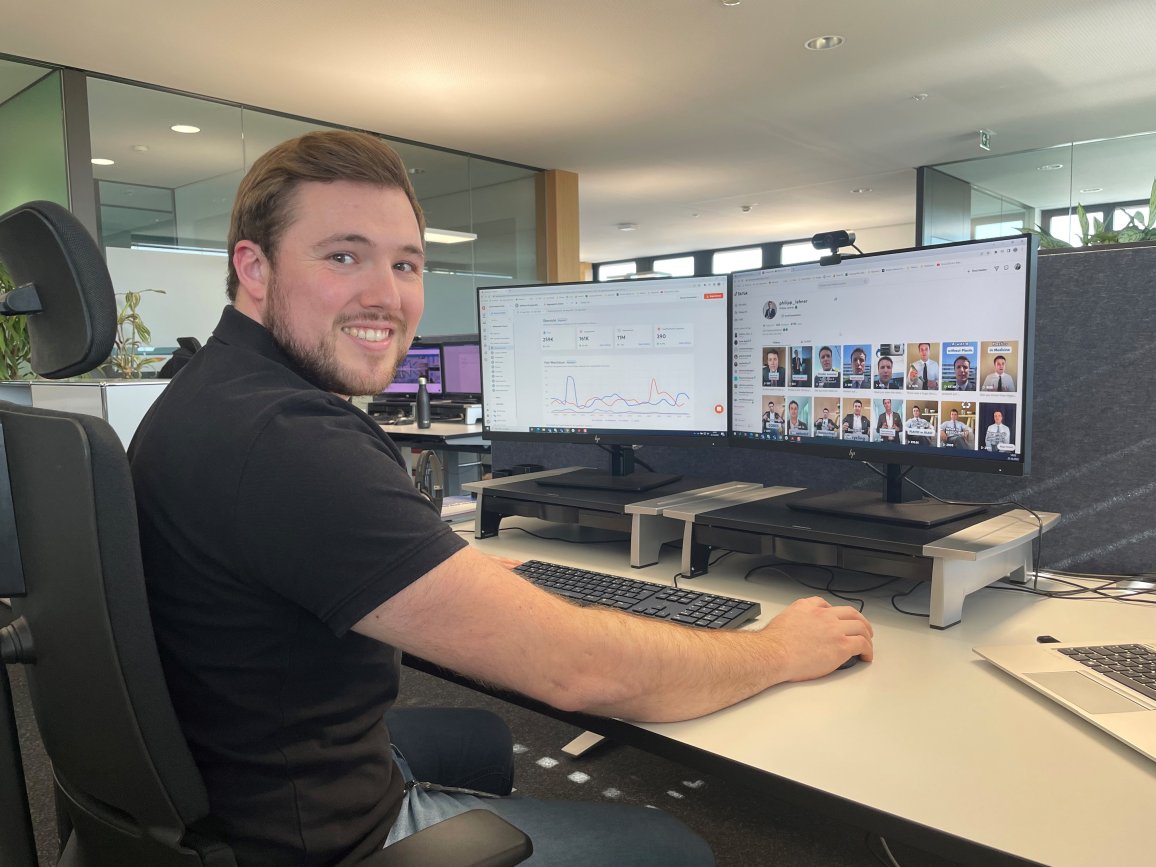 You're very successful and you're a seven-time world champion – a newspaper called you the 'Leo Messi of cycle ball'. How are you so successful in this?
I started playing cycle ball very early and have always invested a lot of time in it. My parents drove me to training three times a week for years, so they also invested in me. When I do something, I do it properly. I always want to do my best, and this has played a part in my athletic success. But of course, I've often been busy training while friends and colleagues were enjoying their free time.
In early November, the cycle ball World Championships will take place in Belgium. What are your chances of winning your eighth title?
My goal of course is to achieve my eighth title. My teammate and I are making good progress for it – alongside us, the Swiss and Germans are the favourites to win. We've already won and lost against both of them this season, so a lot will depend on how we're doing on the day. Unfortunately, two injuries prevented me from training this season – I've only been fit again for a few weeks now. Nevertheless, people shouldn't underestimate us.
Back to ALPLA: apart from your professional duties, what do you particularly like about the Family of Pioneers?
Family of Pioneers describes it very well – we really feel like a big family here. Since I've joined ALPLA, the collaboration between us colleagues has been friendly and efficient at all times. This applies not only to my department – Corporate Marketing & Communications – but to the company as a whole as well. Everyone is also very open to our ideas. I also really like working for a global company. I get to know many new cultures and we often work in English, which is something I really appreciate.
Thank you very much for this exciting chat.
We wish Patrick every success in his World Championships performance in Belgium and are keeping our fingers crossed for him!
UPDATE: 
Congratulations to Patrick and his teammate Stefan Feurstein - they won the world championship title 2022!
ALPLA on Social Media:
Visit Patricks TikTok-Channel
Do you like our texts? Perhaps even so much that you want to use them in your own media? Then please get in touch with us beforehand!