22nd May 2018
People at ALPLA Interview with Mitesh Patel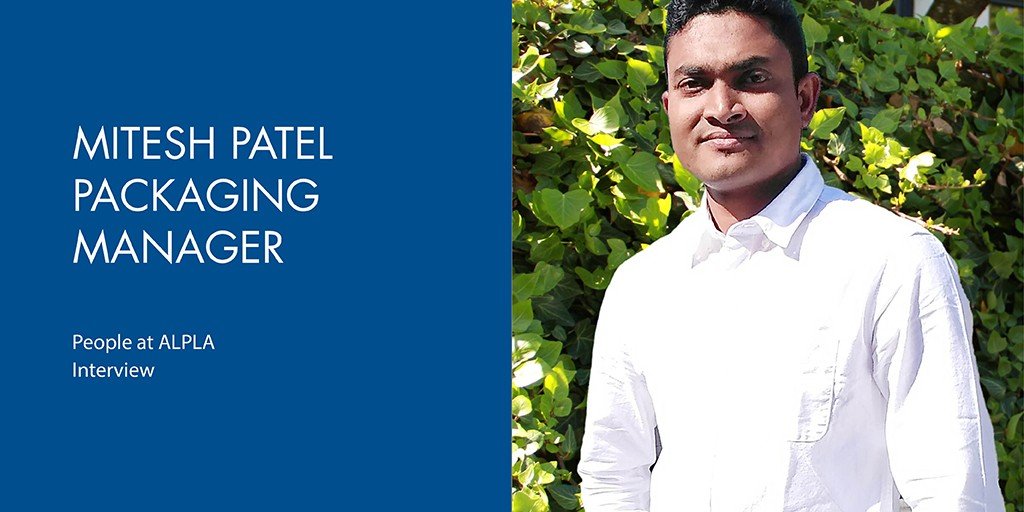 Mitesh joined ALPLA India in March 2016 and has been working as a Packaging Manager in EBM. In this People at ALPLA interview, we learn more about his job and how he made a lifelong dream come true; he also shares a unique Gujarati saying with us.
Name: Mitesh Patel
Location: Pashamylaram, India
Position: Packaging Manager
How would you describe your job to a child?
We give shape to a piece of plastic in order to make a bottle out of it. In other words, we mould plastic into plastic bottles and caps. Like giving shape to a piece of paper and turning it into a paper boat.
What do you find most interesting about working at ALPLA?
Before joining ALPLA, I worked in a small industry. There were a limited number of people and not many different departments. After coming to ALPLA, I got to know people working in different areas, which makes my work really interesting. Working with people from different professional backgrounds and also different cultures gives me great pleasure.
Who was your childhood hero?
I am a child of a farmer, so we were not actually financially strong when I was a kid. My dad is my childhood hero because he worked very hard for our family and despite our small income, he gave us a very good education in renowned schools and colleges. He encouraged me to work very hard and told me that he was there for me and would take care of everything else. I was inspired by him and strive to be like him.
What does a typical day at work look like for you?
I basically keep up the communication with customers, send them samples and follow up on the feedback for these samples. I also make sure we are following the timeline of the project – all of this with the help and guidance of my colleagues. I enjoy my workday with my colleagues.
What is your biggest achievement to date – personal or professional?
My biggest achievement is building a new home. Owning a house in India is a basic need and until now, I didn't have a good house. But, after advancing in my career, I was able to build a house in which my family can live happily together. I started construction two years ago and only recently had a house-warming celebration.
What advice would you give to new employees?
Be focused. Whatever you need to do in the new organisation, just be focused on the daily work. And be confident and sure enough that whatever you do is correct. Keep the basics clear. So if a mistake happens, you can admit and accept it, and your colleagues can guide you.
Where is your favourite place on earth?
We Indians are very attached to our families. So my favourite place is where my family is all together, which is my home.
Which project are you currently working on?
I am working on several projects at the moment. My projects involve a 80 ml handwash bottle, a 400-gram jar for baby food, and containers for protein powders, oil lubricants and others. There are many clients in India for tubes, which I am also monitoring.
Can you share a unique saying in your mother tongue?
My mother tongue is Gujarati and there is a unique saying that goes મન માં કાઈક ભૈરિન જીવોશો ..... માણસ જીવન નહીં જિવિ શાકો ... which means: if you live with bitterness in your mind, you won't be living completely and fruitfully and happily.
Do you like our texts? Perhaps even so much that you want to use them in your own media? Then please get in touch with us beforehand!