Dubai, 19th June 2019
People at ALPLA - Interview with Mazen El Hage
Mazen is an experienced sales manager who embodies ALPLA's values and enjoys working at ALPLA very much. This makes him ideally qualified to build his own team and expedite ALPLA's growth in the non-food sector of the Gulf region.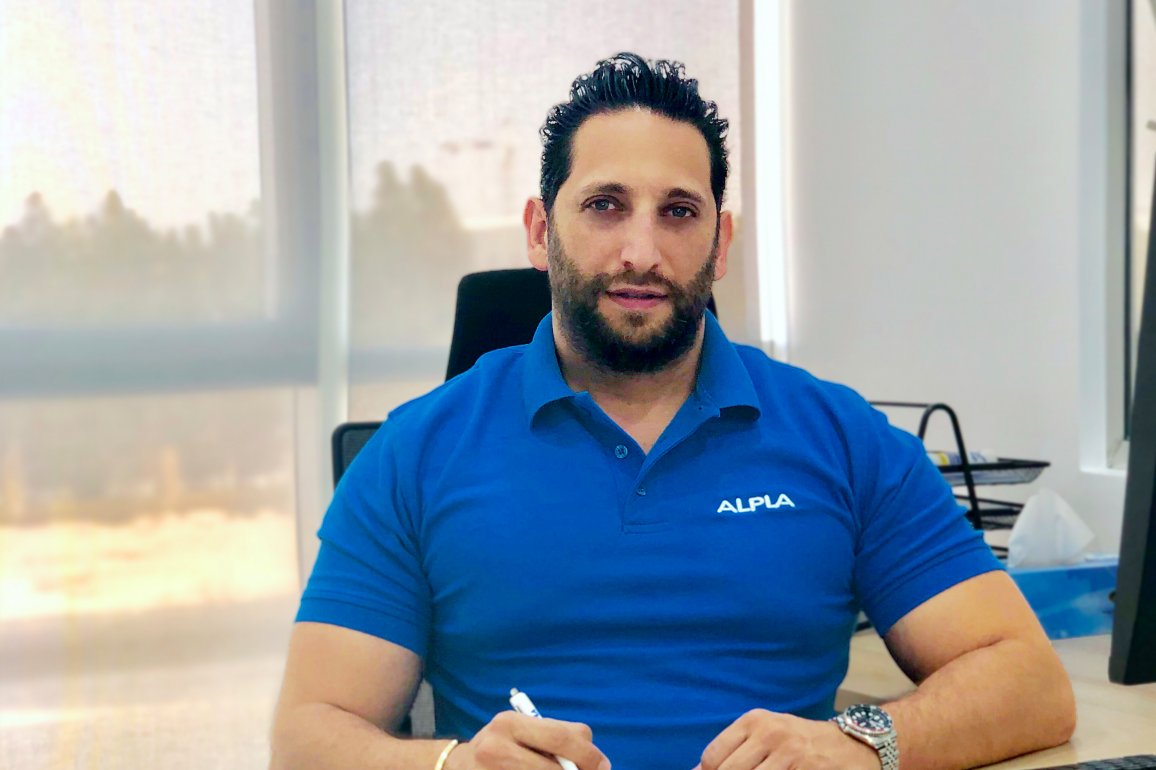 Name: Mazen El Hage
Location: Dubai (UAE)
Position: Sales Manager Non Food GCC
What is your biggest achievement to date – personal or professional?
I consider positioning myself as a sales manager in this world-leading multinational rigid-plastic company to be a fantastic achievement – from a personal and a professional point of view. Since taking on this position in 2018, I am responsible for the sales of non-food packaging in the GCC region, mainly across the United Arab Emirates and Saudi Arabia.
How would you describe your job to a child?
Simply put, ALPLA produces many of the plastic bottles that are found in every supermarket: filled with water, soda, juices, yogurt, milk, shampoos, shower gels, handwash, baby oil, detergents, simply everything. As a sales manager, I help other companies to find the best bottle for their products and support them whenever they need anything.
What does a typical day at work look like for you?
I start every day with a positive spirit and a smile. And I do my best to end my day with a smile as well. I get to work in the early morning, read my emails and speak to my colleagues. Afterwards, I take care of my clients. I intend to visit every customer on a biweekly basis or at least once a month – depending on their needs. I therefore travel a lot and spend approximately one week per month abroad.
Which projects are you currently working on?
The GCC region itself is a big project. ALPLA recently took over 100 per cent of Zamil, a former joint venture. Now, we need to grow our product portfolio, add more clients and expand even further. In addition, clients and end customers in the region are starting to become more environmentally conscious. We are educating them about the possibility of using products made of recycled material such as rPET and PCR. And about the relevance of waste collection and recycling – which isn't comparable to European standards yet in most Gulf states.
What advice would you give to new employees?
That's an interesting question. I would tell a new employee to always be patient, enjoy her or his tasks, think twice before speaking or taking any decision, ask a lot of questions and listen very well. Furthermore, it's important to know how to compare your previous company to this one – at ALPLA, there is a different spirit than at most companies in the GCC region, especially in regards to team spirit and work–life balance. Appreciate what the company has to offer in terms of career, experience and networking possibilities. And don't be materialistic – be smart.
Please describe ALPLA in your own three words/adjectives.
Technology. Leaders. Family spirit amongst all employees.
Can you share a unique saying in your mother tongue?
When I was a child, I was often told this Lebanese saying: لا تؤجل عمل اليوم إلى الغد. It means that you shouldn't postpone today's work to tomorrow. I still remember this nowadays when I catch myself in a lazy moment.
If you could choose anyone, who would you pick as your mentor?
As a child, I would have said my parents and my older brother and sister. Today, I consider every person who gives good direction and leads people to successful paths as a mentor. And I am grateful for everyone who is willing to give advice, because you can learn something from everyone.
What do you listen to in the car on your way to or from work?
I have a daily drive of 35 minutes to work. During this time I really enjoy listening to local radio stations. They usually cover social news and local events. Some morning shows also cover political and economic topics, which I like to listen to as well.
Name four things on your bucket list.
Since living in Lebanon was very difficult in past decades, my family spread across the whole globe. Visiting them makes up the top of my bucket list: visiting Houston to see my brother and his family. I lived close to them when I started my first job in sales, but now I rarely see them and I do miss the kids a lot. Next is visiting Canada, where my lovely sister and her family lives. And visiting Australia to see my uncles, aunts and their families. After I accomplish my world tour, I will be ready to get married and settle down.
Do you like our texts? Perhaps even so much that you want to use them in your own media? Then please get in touch with us beforehand!