2nd January 2023
People at ALPLA: Interview with Daniel Lehner
Since 1 January 2023, Daniel Lehner has been the new Global Sales Director Food & Beverage at ALPLA. Daniel has been with ALPLA for over ten years and is a member of the family that owns the company. In this interview, he talks about the opportunities and challenges that come with the new role.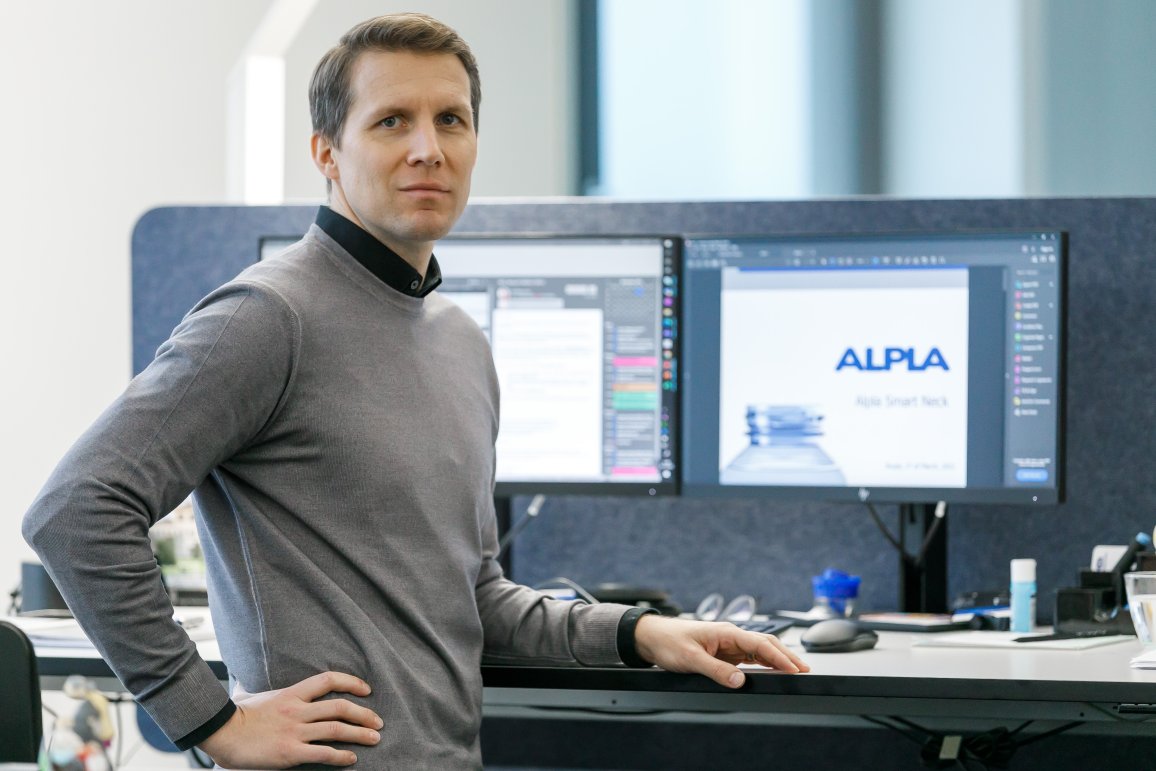 Hi Daniel, congratulations on your new position! How did your promotion and focus on Food & Beverage come about?
The switch is the result of a number of different restructuring processes within the company. After the departure of James Rooney as Regional Managing Director of NOAM (North America), our then UK Country Manager, Tasos Pourloukakis, became his successor. The former Global Sales Director Food & Beverage, Jens Seifried, took over this position in England. I applied for his position and was entrusted with the responsibility of carrying out the role. A number of other key positions were also filled internally. This demonstrates how ALPLA offers opportunities for further development. This is the case for Jens as well as for me; he is now responsible for Operations, HSE, Finance and other areas in addition to Sales.
Can you tell us a bit about your new tasks and goals?
I am taking on a very well-functioning team. We want to continue the great work, acquire new customers, of course, while continuing to grow with existing ones, and also develop new business fields for ALPLA. All of this will be done in close coordination and collaboration with the regions and local organisations. 
What are you going to miss about your old position and what are you particularly looking forward to in your role as the new Global Sales Director?
I worked as a Key Account Manager for twelve years. In that position, I was in contact with our customers on a daily basis. As Sales Director, I will assume a managerial role at a higher level. My position as Sales Director Western Europe, which I held in addition to my role as Key Account Manager from 2019 onwards, was good preparation for this. I was able to support the sales team and establish business development structures – a great experience that makes this new career step easier or even possible in the first place. I look forward to working with the new team and the new customers.
Of course, I will miss my former colleagues. But they are only a few metres away, so it will be easy to continue meeting for coffee or lunch.
Since joining the company in 2010, you worked in the non-food sector until 2018 and, until recently, looked after a large non-food customer. What do you think are the biggest differences between that and the Food & Beverage sector?
Customers and market requirements are more specific in the Food & Beverage sector. There is also cost pressure here, but meeting the criteria for handling food is the most important thing. Thanks to the high level of standardisation, the products are very similar around the world, which is also reflected in larger production volumes. Customers therefore often award their contracts to several partners at the same time. Big customers like Coca-Cola even develop their own material. While Marketing often decides on the bottle shape and colour for non-food customers, technical and food law requirements are the most important factors when it comes to PET for food and beverages.
On 1 January, your predecessor Jens Seifried will switch as the new UK Country Manager from the continent to Britain. How did the handover go?
The process went perfectly. The team gave me a warm welcome and I already feel very well integrated. Jens continues to support me with his experience and advice and is therefore a great help.
What are the biggest challenges facing the Food & Beverage industry and what answers can ALPLA provide?
We operate in a highly standardised field, where price plays a very important role and our customers sometimes also produce their own packaging. Our strength is that we can offer the entire value chain – from product design and bottle development to toolmaking and production. Another major advantage is the access to recycled material via our own plants, which can make the difference in some tenders. Our solutions score points in terms of carbon footprint, price and availability. Thanks to our expertise, we are able to respond quickly to new market requirements, such as the new EU requirements for tethered caps. All in all, we are well equipped!
What do you think makes the 'Family of Pioneers' so special?
The fact that we operate as a joint ALPLA team with the same goals and values. The demands of the market are becoming more and more complex, which makes it all the more important to focus on a common goal. This is also reflected in our specialisation. We have experts for bottle development, for details such as modelling and simulations, for recycling and much more. We are all united by the Family idea: we pull together and the success of our customers is our shared success. Then there's the Pioneer idea: we also venture to try new things. That's how we've always been and that's what ultimately makes us successful.
'Talent Development' and 'Our Promise': how have our internal programmes and mission statements promoted your career?
Since joining ALPLA, I have always enjoyed a great deal of trust and strong support. In 2012, I was able to gain experience in the USA for a year and get to know a different setting. The early involvement in leadership programmes and the contact with colleagues from all over the world was very valuable and broadened my horizons. My career path that led from being a sales employee to a placement abroad and then to becoming a manager shows what is possible at ALPLA.
Finally, a personal question: what are your hobbies and where do you spend your free time?
I like being active and am mostly outdoors. In summer, I like playing tennis, but of course also enjoy the mountains and lakes. In winter, I like to ski. I make the most of what the region has to offer. In addition, my wife and I love to travel – our curiosity makes us eager to discover new things.
Thank you, Daniel.
Do you like our texts? Perhaps even so much that you want to use them in your own media? Then please get in touch with us beforehand!