14th May 2019
Trainee and careers: ALPLA's trainee programmes
Can learning be fun? With ALPLA's trainee programmes, it certainly can! They strike the right balance between theory and practice and use motivated co-workers to act as trainers of the trainees, turning young talent into qualified skilled workers with excellent career opportunities in just a year.
'With its trainee programme, ALPLA enabled me to easily and smoothly transition from school to the world of work. I would recommend it to anyone,' says Daniel Schnetzer resolutely, a former trainee who is now an innovation design engineer at ALPLA. Like many of his co-workers, Daniel used the trainee programme as a springboard for his career, and did so immediately upon leaving school.
Trainee programmes serve as the ideal springboard for school leavers and higher education graduates. They give them an in-depth insight into a company's processes and expertise, and allow them to discover their strengths and interests and learn a great deal while in a permanent and paid employment relationship. And for the company, a trainee programme is a way of specifically implementing HR development to counteract a shortage of skilled workers. The result is a win-win situation for everyone involved.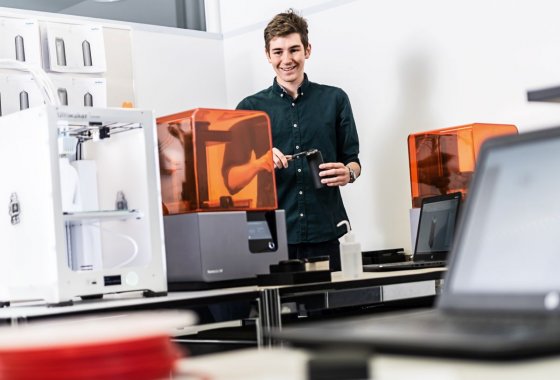 'With its trainee programme, ALPLA enabled me to easily and smoothly transition from school to the world of work. I would recommend it to anyone,' Daniel Schnetzer, innovation design engineer at ALPLA.
(Photo: Michael Gunz)
At ALPLA, every trainee is introduced to their future line of work in a process which is tailored to their interests. In all of the programmes, a key role is played throughout the training by the trainers and experts from the various departments. They focus a lot of their attentions on the junior employees and invest a great deal of time in their training. ALPLA is currently running three trainee programmes:
On-the-job training for the technically skilled
ALPLA's technics programmes are designed with upper secondary school leavers in mind from schools with a technical focus and technical courses. Both of the programmes introduce the talented young trainees to the world of plastics engineering by means of varied on-the-job training. 'These programmes are an attractive career starter and are also a good opportunity to give young people some guidance,' emphasises Gerhard Timmerer, head of the Hard Technical Center.
The trainees are given intensive training in various technologies, regularly change departments and sometimes even move between different sites and countries. This allows them to familiarise themselves with the company from the bottom up and pinpoint the direction in which they wish to develop: what are their personal strengths and which department or work environment do they like the most?
The sales experts of tomorrow
The sales trainee programme provides future sales managers with the necessary skills. 'We want to develop skilled sales managers for the future and ready them for demanding responsibilities within international sales at ALPLA,' says Sales Director Alexander Draxler. Those who embark on business studies training learn about the sales processes at ALPLA and are given an insight into interface fields such as technology and production. 'It's important to us that new trainees learn about the company from the ground up and are able to identify interrelations. This enables them to act professionally and with aplomb in their interactions with our customers,' underscores Alexander Draxler.
Continuation of a successful concept
The positive past experience with programme graduates confirms the concept. Whether working as a trend researcher at the headquarters in Hard, a program manager in the growth region of Africa or an expert at the Technical Center in Atlanta, USA, the one-time trainees are well integrated into the company and have taken on exciting tasks all over the world.
Daniel Schmid, a former trainee who is now an associate program manager, sums up his career start with ALPLA: 'Right from the start, I was fascinated by working for a global technology leader. You often come into contact with departments at other sites and co-workers from all sorts of different cultures. During the programme, I travelled to our Technical Centers in Atlanta, Shanghai and Toluca.' Daniel now works in South Africa.
There are currently a number of trainee programme vacancies. Applications can still be submitted up to the end of May 2019:
Do you like our texts? Perhaps even so much that you want to use them in your own media? Then please get in touch with us beforehand!