17th June 2021
PET mineral water bottles: safe and good
Food should ideally be safe. In addition to the ingredients, consumers have high expectations, especially in terms of freshness and shelf life. For beverages, the safety aspect of the packaging is at least as important. In a comparison, PET performs far better than glass.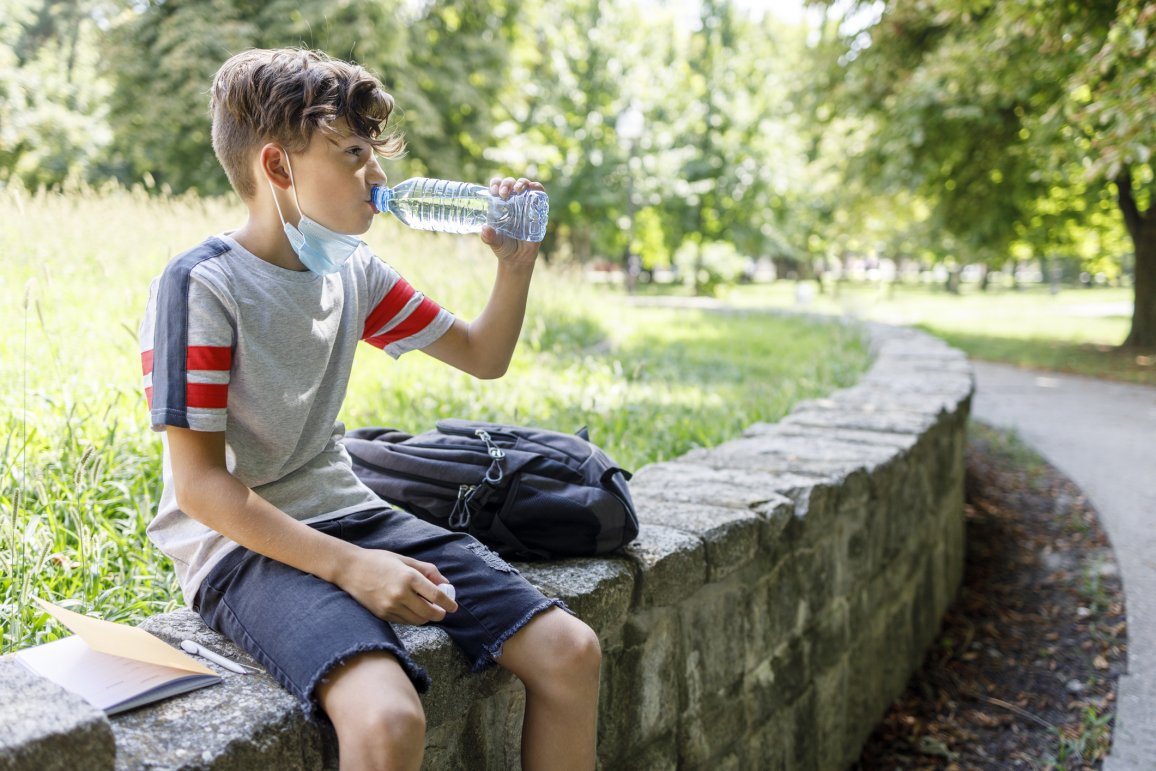 Why are we not allowed to take drinks in glass bottles to major events in many countries? There are good reasons for this! If glass breaks, the user can injure not only themselves, but also others. There are many reasons in favour of applying this safety measure in the home too. Injuries caused by sharp shards and splinters of glass pose a considerable risk in the home. But this risk can be avoided if you buy mineral water bottles made of PET.
The hazards relating to glass tend to remain invisible
We have all been there – if a drinking glass or a glass bottle smashes, splinters and shards of glass are spread across a large area. And with clear glass in particular, they then remain difficult to locate or indeed invisible. Then, days later, you notice a crunching sound under your shoe – yet another glass splinter in your home! It's a good job you weren't walking around barefoot. But it's obviously a different story if you have pets. Cats and dogs don't wear slippers. And similarly, children often love to run around at home either barefoot or in socks. But you can effectively protect them from this invisible hazard. The same goes for public spaces such as outdoor swimming pools, where glasses and glass bottles near the edge of the pool or on the lawn pose a risk for everyone.
PET – the safe solution
The solution to the problem is both simple and safe. The mineral water or the lemonade that we drink for refreshment at home or when out and about is available from retailers in PET plastic bottles. PET is a highly robust plastic and a hazard-free alternative to glass bottles. If a PET bottle is dropped, it will not break. And if it is sealed, its contents will stay where they belong in the event of a minor domestic incident – in the bottle.
Plastic boasts many advantages in comparison to glass
PET is kind to fingers and feet, floors and furniture. PET is kind to the environment and the climate too! The bottles use far fewer resources in their product cycle than glass bottles. Not only because it takes approximately 30 times more glass than plastic to package the same volume of beverage safely and hygienically. With its low melting temperature, PET also saves energy and CO2 during production. And due to its low weight, its transportation is resource-conserving too. The fact that PET can be very easily recycled further improves the environmental footprint of recycled PET. The bottles should be used as often as possible by means of what's known as bottle-to-bottle recycling. In a subsequent product life, PET can be used for the manufacture of pipes, films or textiles. And even at the end of its life cycle, this plastic is sustainable. When incinerated, the material can be used to generate electricity or heating. To put it simply, enjoying mineral water from PET bottles is both safe and good – for everyone and for the climate.
(Author: Claudia Wörner, yes or no.)
Do you like our texts? Perhaps even so much that you want to use them in your own media? Then please get in touch with us beforehand!