6th July 2021
PET is light, highly versatile, very stable and, above all, easily recyclable
Christian-Yves Crépet, Managing Director of Petcore Europe, reports in an interview with ALPLA about the goals of the recently launched "End Waste, Recycle the 1" campaign and what can be done about the distorted perception of PET.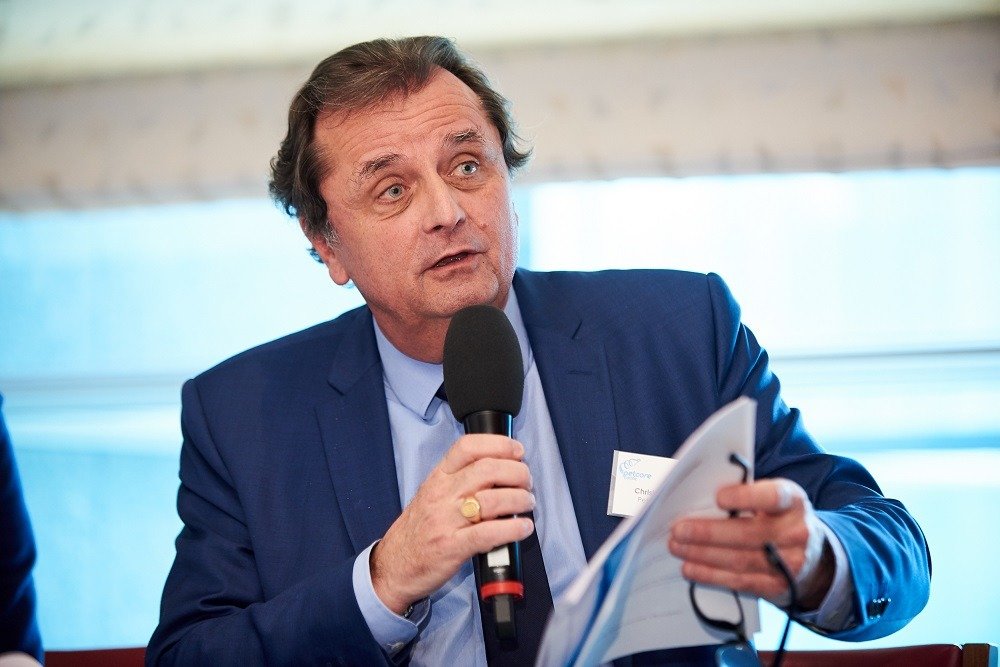 How long have you been working for Petcore Europe and what are you responsible for?
I have been actively involved in Petcore for 20 years, initially as a representative of the recycling company Sorepla and as treasurer on the Board of Directors, where I represented Plastics Recyclers Europe (PRE). At PRE, I acted as Vice President as well as founder and Chair of the HDPE/PP Working Group. I was appointed Managing Director of Petcore in April 2017 upon leaving Sorepla. I am responsible for a variety of areas:
Strengthening Petcore's finances. We have grown from 30 members to currently 120. Strengthening the Working Groups, which are the heart and soul of Petcore Europe. Boosting the professionalism of our advocacy in order to get closer to the European Commission's Directorate-Generals, Environment and Grow, as well as to get involved in the activities and position papers of the plastics associations. The decision was also taken in 2020 to focus on an information campaign for PET directed at the Brussels institutions and the end consumers.
When was the campaign 'End Waste, Recycle the 1' launched and what is it about exactly?
The campaign has been in preparation since 2020 and was officially launched in June 2021. It is based on the results of a market analysis of consumer behaviour relating to PET in France, Germany and the UK. The campaign comprises infographics and animations, a social media strategy, a political manifesto, a website featuring all the information and an online campaign in France and Germany. In addition, an information event for Members of the European Parliament is planned for September 2021.
'Market observation has shown that there is a lack of knowledge about the advantages of PET'
Why was this initiative launched and how is ALPLA involved?
Market observation has shown that there is a general misunderstanding or a lack of knowledge about the advantages of PET. There is even a distorted perception of PET due to very negative reporting, and this has resulted in mounting pressure on PET, including in the European Parliament. We therefore decided to act and launched a communications campaign with the aim of improving the reputation of PET among policymakers and consumers in Europe.
In addition to making a generous financial contribution, the role of ALPLA is in particular to help manage the campaign and to be involved in the day-to-day work. The fortnightly meetings are attended by all the key campaign stakeholders to discuss its general development and to be able to react to developments in good time.
In this context, ALPLA advised us to run a behavioural study, which was conducted by FehrAdvice. This was crucial to the start of the campaign as a professional approach is taken at all times and, among other things, valuable input regarding a number of our own (LCA) studies is regularly provided. This helps us immensely.
What are the campaign's core messages and activities?
The campaign's primary objective is to achieve full recognition of PET as the first choice for packaging and other end uses that live up to the expectations of the consumers and other interest groups with regard to the environment, sustainability and performance criteria.
Our activities are organised around our weekly meetings with our consulting agency. We already achieved very positive results with our first, simple social media campaign. We therefore expect to see even better results in the second phase. In this phase, we want to specifically address consumers in France and Germany via social media. Having already achieved excellent results among the Brussels stakeholders with our previous tools and services, we are anticipating similar results for these two countries.
'PET is already the most frequently collected and recycled plastic in the world'
What makes PET so special?
PET is light, highly versatile, very stable and, above all, easily recyclable. Two out of three PET bottles in Europe are already collected for recycling. In addition, PET causes up to 75% fewer greenhouse gas emissions than the alternatives made of glass or metal. European legislation means the collection rates and percentage of recycled content will continue to rise in the next few years.  
With the European economy becoming greener and greener, PET has an important part to play in the circular economy due to its many possible applications. PET is already the most frequently collected and recycled plastic in the world and it boasts unique properties that really set it apart from other plastics. As such, PET has a key part to play in the EU's Green Deal and in other EU environmental policies.
How can other members of the PET value chain help and support this initiative?
We encourage all members of the PET value chain to follow our campaign in the social networks, share the posts and regularly visit our website. We also encourage the industry players to support our campaign financially if they share our desire to boost the image of PET in Europe. The more of us there are, the more we can achieve.
We would also be delighted to hear from them if they are running a communications project or campaign relating to PET. We could perhaps discuss procedures that have proved to be a success and even invite them to a communications webinar which we plan to hold after the summer, where we will be presenting the campaign in detail.
Do you like our texts? Perhaps even so much that you want to use them in your own media? Then please get in touch with us beforehand!