5th November 2019
ALPLApharma – a new global provider of innovative pharmaceutical packaging
From 5 to 7 November 2019, ALPLA will be presenting ALPLApharma, its new brand, at the CPhI trade show in Frankfurt am Main. Read an interview on this with Walter Knes, Global Sales Director Closure Systems, Injected Parts and Pharma at ALPLA.
Mr Knes, ALPLA is taking on a new market segment with ALPLApharma. How was this decision made?
ALPLA has grown in previous years thanks to acquisitions in Africa and south-eastern Europe. It all began in 2016 with a joint venture with the Taba Group in Egypt (today ALPLA TABA), followed by the takeover of Boxmore Packaging (today ALPLA South Africa) in 2017 and, finally, with ALPLA acquiring one Romanian and one Greek site from Argo S.A. in 2018. All of these companies possessed experience in the field of pharmaceutical packaging and had active relationships with clients in the pharmaceuticals industry.
So it would be fair to say that ALPLA can count on years of experience and isn't really moving into completely new territory?
Exactly that is what it's all about. When we integrated the new companies, we recognised and appreciated their valuable expertise in this sophisticated market segment. Our goal was to tie up all of this expertise, combine it with the values and services of ALPLA and integrate it into our global network. The introduction of ALPLApharma is, accordingly, the next logical step. This brand of ours, under the ALPLA Group umbrella, stands for a larger product selection with comprehensive service at an international level.
Product selection is a good keyword. Standardised products have more of a role in the pharmaceuticals market than the custom-made packaging solutions which ALPLA is known for. How do you reconcile the two?
You're right, this is new for us. Our product offer currently ranges from bottles for liquids and solids and containers for tablets and pills to closures and dispensing systems – including eyedroppers and nasal sprays – as well as devices for administering medication with and without measuring function. What's more, these standardised products can be chosen and ordered with great ease in our new online shop. However, in future we also want to excel in this market segment with client-specific developments, i.e. custom-made packaging solutions. In my view, this arrangement we have of acquired sites with expert knowledge combined with the standing of ALPLA as a technological leader can only prove successful. Our work together with our new additions has turned out well.
What plans does ALPLA have for this new market segment?
It's a growth market and we are acting accordingly. In Greece, we will expand production capacity, especially for eyedroppers and nasal sprays. Cleanroom production based on ISO 7 has already been expanded there to meet rising demand. We are also planning investments into additional production space in Egypt.
To conclude, what makes this new market segment exceptionally interesting in your view?
The pharmaceuticals industry is a very challenging industry with market mechanisms entirely of its own. The quality expectations are, of course, tremendously high. The way I see it, innovative packaging solutions made of plastic have an extremely bright future in the pharmaceuticals sector. No other material is as suitable as plastic for protecting products from counterfeiting, for preventing misuse and for safe and secure transportation. Digitalisation and new technologies are also opening up many promising opportunities, just like in other industries. In short, it's an exciting environment which we can offer the right packaging solutions for.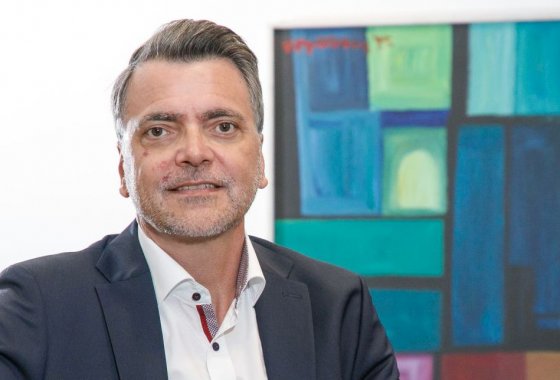 Walter Knes started his career at ALPLA in 1992. He soon discovered his passion for injection moulding and has worked in leadership roles in this field for many years. He has been Global Sales Director for injection moulding since 2008. 49 years young, what he appreciates in particular about ALPLA are the benefits of a family-run company: 'You get the opportunity to work with young, up-and-coming recruits just as much as you do with experienced employees and directors.'
Do you like our texts? Perhaps even so much that you want to use them in your own media? Then please get in touch with us beforehand!