5th May 2022
Recycled HDPE with an excellent carbon footprint
Recycled HDPE (rHDPE) from the Spanish recycling plants Suminco in Montcada i Reixac and in Venta de Baños, which belong to the ALPLA Group, causes up to 88 per cent fewer carbon equivalent emissions than virgin material. This finding of an analysis performed by the independent business consultancy c7-consult once again underscores the importance of recycling.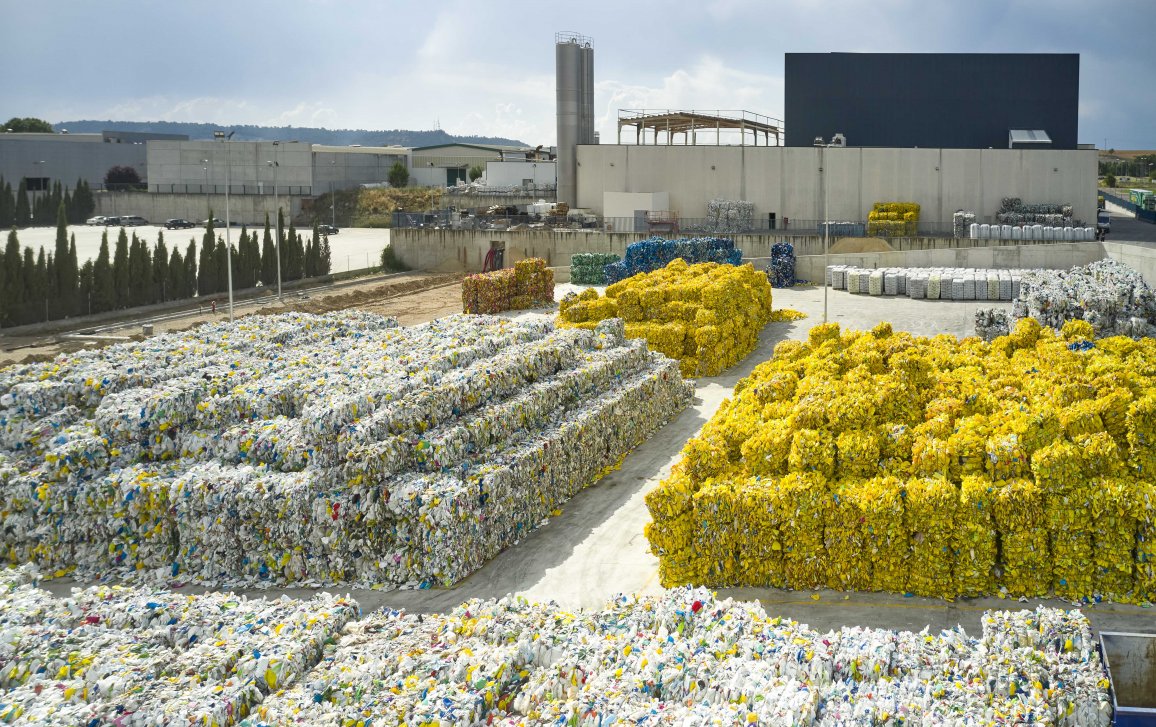 Recycling plastic packaging has been an integral part of ALPLA's sustainability strategy for more than 25 years. The global manufacturer of plastic packaging always advocates a closed packaging loop in accordance with the bottle-to-bottle principle. Recycling plays a key role in this, giving value to used plastic packaging. Having long since established a name for itself globally as a partner for PET recycling on the basis of its own recycling plants, the company additionally moved into HDPE recycling in autumn 2019 when it purchased the two Spanish recycling plants.
To underscore the importance of recycling in the area of HDPE too, ALPLA commissioned c7-consult, an independent business consultancy focusing on life cycle assessments, the climate and sustainability, with calculating the carbon footprint of rHDPE (recycled HDPE).
rHDPE significantly reduces carbon emissions
The result illustrates once again why it pays to continue to invest in recycling activities – the rHDPE produced in Montcada has a carbon footprint of 0.24 kg of carbon equivalents per kilogram. This equates to 88 per cent fewer greenhouse gas emissions than virgin HDPE, which has a footprint of 1.92 kg of carbon equivalents per kilogram. The rHDPE produced in Venta de Baños likewise has an excellent footprint of 0.28 kg of carbon equivalents per kilogram, putting it 85 per cent lower than virgin HDPE. The analysis covers the separate collection and sorting of post-consumer HDPE bottles (primarily in Spain), their shipment to the ALPLA recycling plants, and their being washed and processed into rHDPE pellets. The two plants currently have an annual capacity of approximately 25,000 tonnes of rHDPE.
'The saving of up to 88 per cent CO2 with rHDPE in comparison to virgin material confirms once again that our investments in our global recycling activities are worth it. We wish to continue on this path in the future too.'
Günther Lehner, ALPLA Chairman
Colour sorting offers additional advantages
When it comes to recycling HDPE, ALPLA focuses in particular on colour sorting. This maintains high-quality HDPE recycling streams, preserves colour streams and keeps packaging in the loop for a long time. Turning yellow HDPE into yellow rHDPE, white into white, red into red or blue into blue, for example, reduces the use of colour pigments, while additionally preventing commingling and therefore also 'greying' of the material.
This enables ALPLA to meet many of its customers' marketing requirements and produce many examples of coloured packaging using sustainable recycled materials. This goes hand in hand with important measures in the area of design for recycling which aim to accommodate the complete recyclability of a product already at the concept development stage.
ALPLA investing in the circular economy
In 2018, ALPLA signed the Global Commitment of the New Plastics Economy, an initiative of the Ellen MacArthur Foundation, and committed to spending a total of 50 million euros to expand its recycling activities up to 2025. ALPLA has since significantly increased this investment target. From 2021, an average of 50 million euros a year will be ring-fenced specifically for recycling. In addition, all packaging solutions are to be fully recyclable by 2025 and the proportion of processed post-consumer recycled materials is to rise to 25 per cent of total material usage by this time.
Media
Press contact
ALPLA
Lukas Österle
Senior Sustainability Communications Manager
+43 5574 602 2132