30th September 2021
#PLASTICPACKAGING: Dishwashing gel bottles made of 100 per cent recyclate for Henkel
Together with Henkel, ALPLA has developed a new recyclable packaging concept for the Düsseldorf manufacturer's Somat gel products. The dishwashing gels are now available in bottles made of up to 100 per cent post-consumer recyclate (PCR). The cap of the Pro Nature version is likewise made of 50 per cent recycled material sourced from waste collection.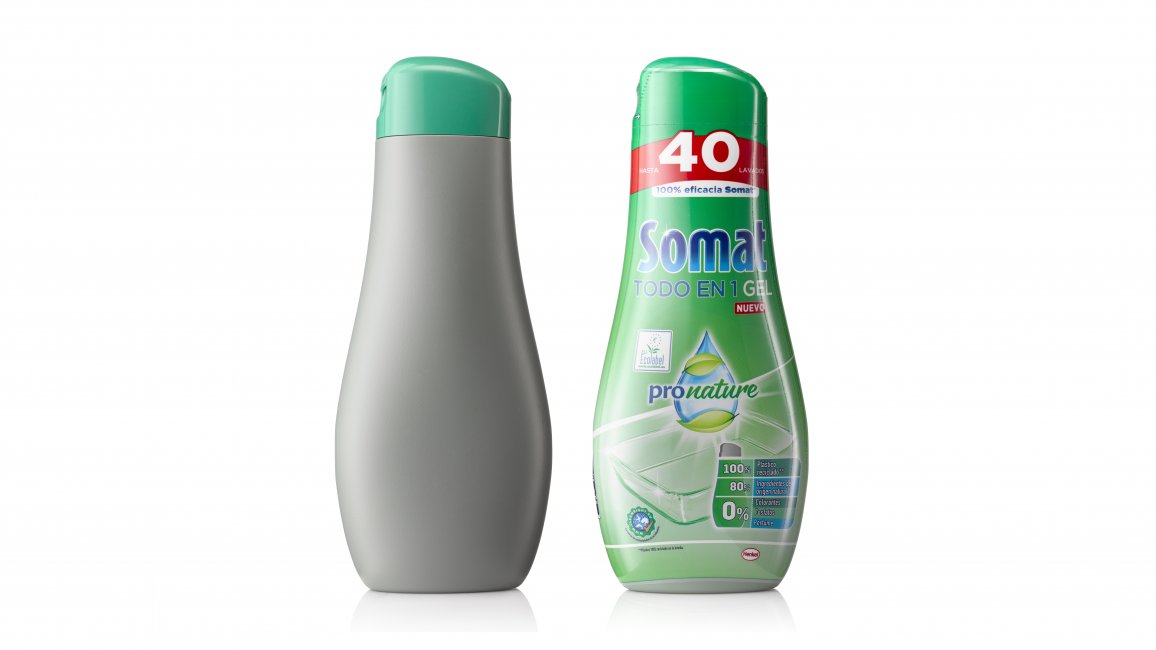 'Our Ecolabel certified All in 1 Gel Pro Nature is the most sustainable dishwashing gel on the market today. By using mixed-coloured grey recycled PE we give coloured PE bottles a new life.'
Carsten Bertram, Head of International Packaging Dishwashing at Henkel
In close collaboration with Henkel Laundry & Care, ALPLA has developed bottles which are made of up to 100 per cent recycled HDPE (rHDPE). Both Somat Excellence Duo Gel and Somat All in 1 Gel are available in bottles made of 50 per cent rHDPE. Somat All in 1 Gel is additionally offered as a Pro Nature product line in bottles made of 100 per cent recycled material with a cap made of 50 per cent recycled PP (rPP).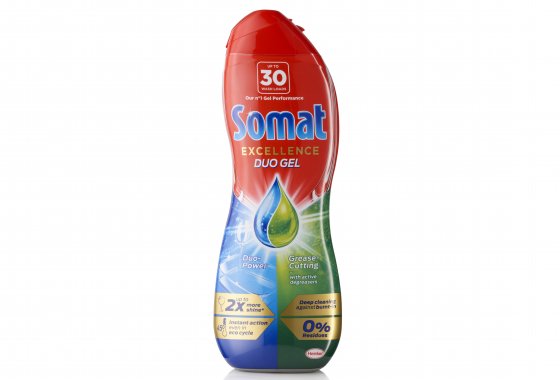 Project targets surpassed
The new bottles were developed with a target of being made of at least 50 per cent PCR without any compromises in terms of their appearance on the store shelves or their stability and mechanical properties. It was even possible to increase this proportion to 100 per cent thanks to the high quality of the rHDPE recycled material provided by PET Recycling Team in Wöllersdorf.
Grey recycled material used
One of the challenges when it comes to recycling HDPE is sorting the input material by the many colours in circulation in the market. The mix of colours that cannot be sorted separately results in rHDPE which is grey, and this is available in sufficient quantities and in very good quality.
This is where the sustainable packaging concept devised together with Henkel comes in as nothing but grey rHDPE is used for the new bottles. The entire body of the bottle is encased in a printed shrink sleeve that features all the necessary product information. When waste is being separated after use, the consumer can open the sleeve along a perforated edge like undoing a zip. It is not glued on so it can be easily removed and placed in the recyclables collection separately from the bottle.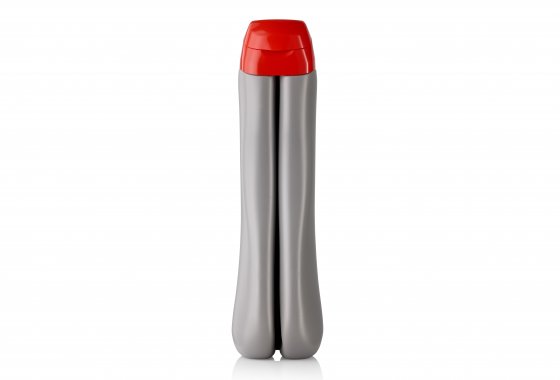 Sustainability at Henkel
With its new, sustainable packaging solutions, Henkel is advancing its activities in the direction of a circular economy. The company has set itself a target of reducing the proportion of virgin plastic from fossil resources in its consumer goods packaging by 50 per cent by 2025. To achieve this target, Henkel will increase the proportion of recycled plastics to over 30 per cent, reduce the absolute plastic volume and make increasing use of bio-based plastics. Additionally, 100 per cent of Henkel's packaging will be recyclable or reusable by 2025.*
Technology: EBM
Bottle material: 100 per cent rHDPE made of PCR (All in 1 Gel Pro Nature), 50 per cent rHDPE made of PCR (All in 1 Gel, Excellence Duo Gel)
Cap: 50 per cent rPP made of PCR (All in 1 Gel Pro Nature)
Contents: 720 ml + 1,080 ml (All in 1 Gel), 700 ml + 1,000 ml (Excellence Duo Gel)
Recycling: Completely recyclable in the existing recycling streams (yellow recyclables bin bags/bins)
Label: Removable film label featuring all the important product information and with perforation for waste separation by the consumer
Products available in: Italy, Spain, Central and Eastern European Countries, Russia, Middle East and Africa region
'This project is a milestone in the successful sustainability partnership between ALPLA and Henkel, and is playing a substantial part in promoting the bottle-to-bottle loop in the market.'
Herwig Schrank, Global Key Account Manager at ALPLA
* The only products excluded here are those containing residues which could adversely affect their recyclability or contaminate the recycling systems.
Do you like our texts? Perhaps even so much that you want to use them in your own media? Then please get in touch with us beforehand!