21st June 2022
Pril packaging now with 50 per cent recycled material from yellow bag waste
ALPLA and Henkel have set another milestone together in relation to sustainable packaging. The bottle bodies produced in Germany for the dishwashing detergent Pril will now be produced from 50 per cent recycled material from yellow bag waste. Recycled beverage bottles are to be used for the remaining part, so the bottle bodies will consist of 100 per cent recycled PET.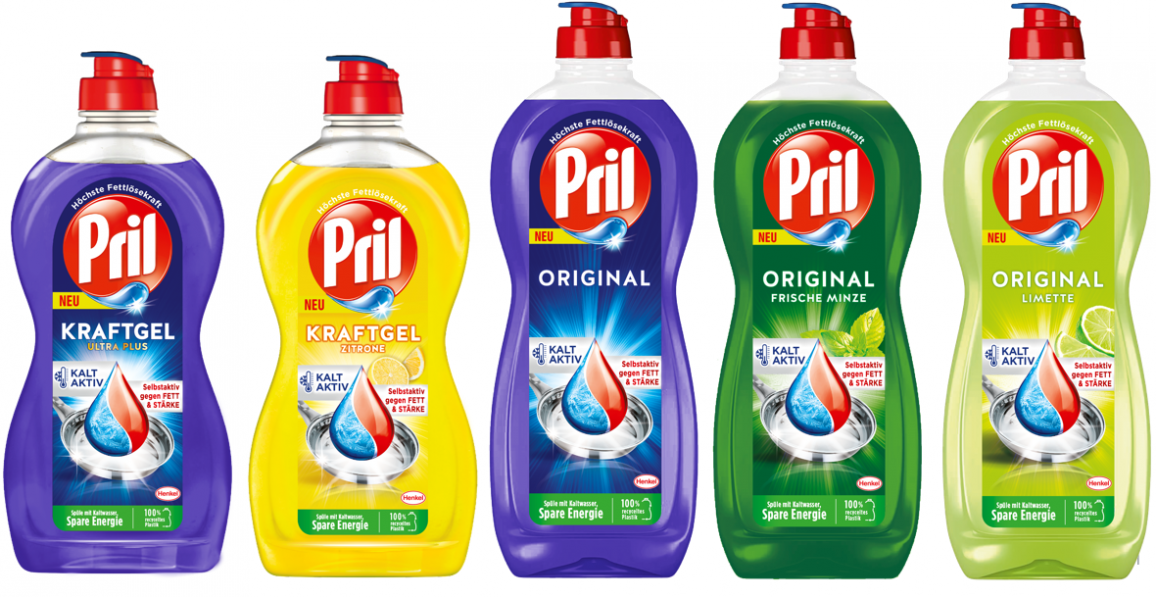 'We are delighted to support Henkel with the transition of its packaging. Investment in modern recycling structures is only possible if there is sufficient demand for recycled material from yellow bag waste on the part of industry. Henkel is sending out an important message here,' says Dietmar Marin, Managing Director of Recycling at ALPLA.
Yellow bag waste is becoming increasingly important as a source of materials for sustainable packaging concepts in order to promote a closed-circle economy. However, the recycling rate of packaging materials collected via the dual system in Germany is still low. This is in part due to complexity of the sorting process and the reprocessing of this material. 'Packaging materials collected through yellow bag waste are significantly more diverse in nature than returnable bottles and are often very contaminated,' says Carsten Bertram, Head of International Packaging Development Dishwashing at Henkel. 'For a long time, high-quality recyclate from yellow bag waste was therefore not available in sufficient quantity. However, the collaboration with ALPLA is an important step forward.'
ALPLA has been cooperating with Henkel on innovative and sustainable packaging solutions for a number of years and has been continuously expanding its sorting and recycling technologies. At the beginning of last year, Henkel introduced packaging made from recycled material sourced from yellow bag waste for some of its products. Now, Henkel has switched all of its packaging for dishwashing detergent produced in Germany to premium PET recyclate (rPET) sourced from yellow bag waste. In the future, the volume of recycled material originating from yellow bag waste will be further increased. Henkel also plans to switch its packaging for other consumer products.
The project is another step on the way to a circular economy, which both companies are working towards through ambitious targets. ALPLA has set itself the goal of using 25 per cent recycled material in the total processed material in its products by 2025. Furthermore, all packaging solutions are to be fully recyclable by this time. ALPLA is investing at least €50 million per year to achieve this. Henkel is also aiming to make all of its packaging fully recyclable or reusable* by 2025. In addition, Henkel aims to reduce the volume of new plastics from fossil sources in its product packaging by 50 per cent, while increasing the volume of recycled material to over 30 per cent.
'To enable a functional circular economy for the long term, it is important that all packaging be made fully recyclable, that the necessary recycling infrastructure and corresponding technologies be in place, and that post-consumer recyclate be reused as a matter of course in the production of new packaging.'
Carsten Bertram, Head of International Packaging Development Dishwashing at Henkel
* With the exception of products where components or residues may affect recyclability or contaminate recycling streams.
Media
Do you like our texts? Perhaps even so much that you want to use them in your own media? Then please get in touch with us beforehand!