28th June 2022
People at ALPLA - Interview with Patsy Chitwood
When ALPLA first began operations in North America, the team was small and consisted of a handful of pioneers working in McDonough, GA. Patsy Chitwood was among the few faces, and twenty years later she's the first native hire to reach a major milestone. In April, Patsy was honored for 20 years of incredible service. As a machine operator and stand-in supervisor, she was celebrated with a popular BBQ lunch surrounded by the local team. While Patsy is well known around the plant for her calm demeanor and cooperative attitude, there's so much more to the hard-working Mrs. Chitwood. Here's part of her story.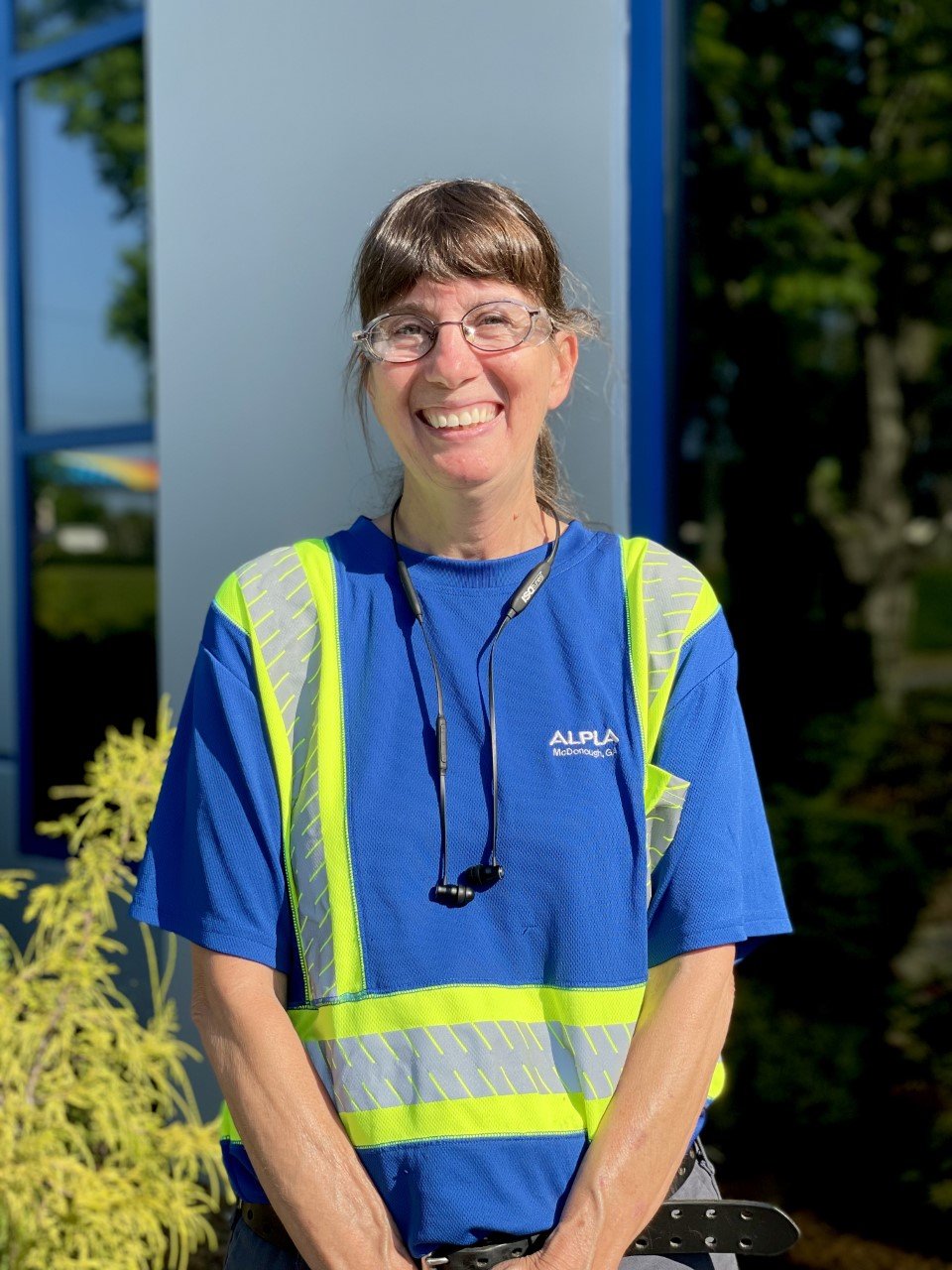 Hi Patsy! It's hard to believe you've been here from the start and that you're probably the only native hire that's still in MCD! What can you share about your experience? 
I am a Georgia girl, born and raised.  I have been married for 42 years with three grown children, and one grand baby [and] my husband worked here at this ALPLA.  It was a plant that just opened four months before [so] they were looking for machine operators.  At that time, the plant only had three machines and the A warehouse, the Technical Center was years away.    
There were a lot of growing pains in the beginning.  With the plant only being four months old, you obviously do not have the veterans to show you the ropes like we do now in this plant.  We had support from Europe, but we basically had a plant with new hires trying to pick up as much knowledge as we could.  It is wild how much this place has grown.  We have added machines, space, and people. Soplar Machines were new to the US, and I still remember my struggles when I started.  I remember this when I train our new guys on the machine, and it gives me the patience that they need to improve their skill levels.
You said that you're a machine operator, can you describe what you do every day?
I come in and I make sure we make good bottles to sell to our customers. We spend a lot of time on quality, weights, visuals, and on making sure the material percentages are right. That's really the basics of what I do. It's funny because I always look for our bottles when I go shopping - mainly to see if our labels are straight or if anything is blocked! I love seeing that we put out good products!
After 20 years, ALPLA is probably like a family home – why do you love it so much?
[I love] the people that work here.  I have seen so many of my teammates grow up in front of me.  They were kids in their late teens or early twenties who came in at the entry level positions, and now [they] have careers.  It was awesome to see those who worked hard advance in different positions.  I got to see them become adults - being able to buy cars, homes, and start families.   
So, what are some of your favorite moments on the job?
I have always enjoyed coming to work.  It is great when your shift works like a team.  You know that you are part of making the entire shift's job better.  You know that the training, managing, and doing your part leads to the shift's success. 
I feel like everyone who visits the plant knows "Patsy", but what's one thing people don't realize about you and your work?
I have been involved in several of our in-house videos that we do in ALPLA, but I am actually very shy.  I have been here for 20 years, but I learn something new every day. The more you know and teach...the easier the job becomes.  
What are you most excited for as you continue to contribute your talents on the shop floor? Do you have any advice?
Training our newer teammates! ALPLA is a great place to work, [we have] so many growth opportunities if you put in the work.   
What can you say to anyone looking to join ALPLA?
Anyone looking to join ALPLA should know that it's a great company to work for. The benefits are great. I love the people here and there's really a lot of opportunities for growth in the company – as I said before, all you have to do is be willing to put in the work! 
Getting to know Patsy - 5five fun facts
What's your favorite food? Meat!
The best spot in McDonough?  Sam's Club    
A great way to end the day?  Talking to my grandson on the way home from a smooth day.
Coffee or Tea person? Dr. Pepper!
Best way to celebrate? Good food, friends, and family. 
Media
Do you like our texts? Perhaps even so much that you want to use them in your own media? Then please get in touch with us beforehand!