16th March 2023
People at ALPLA: Interview with Laila Munayer
Laila Munayer is the sustainability manager of ALPLA Mexico, Central America and the Caribbean. Her daily work is based on three pillars: sustainability, external communication and public affairs. Combining these three passions allows her to have a much more holistic vision of what ALPLA needs and, more meaningfully, what the company can contribute to people and the environment.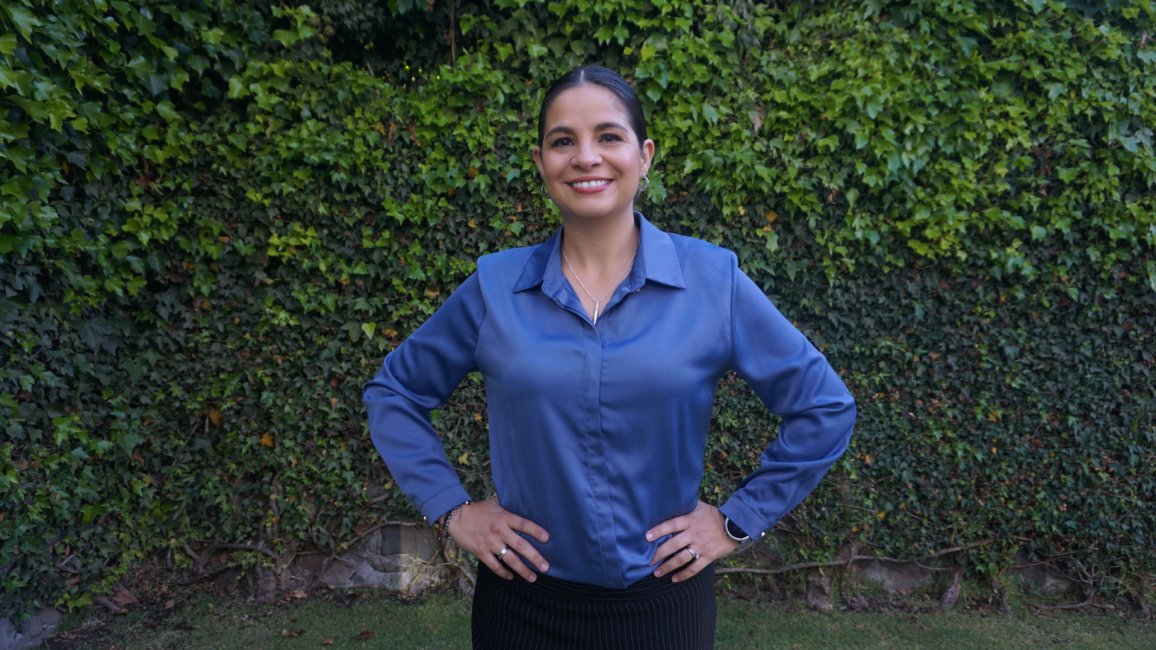 Hello Laila. Nice to meet you. What project are you currently working on?
We are working on different sustainability projects in the region and making ALPLA more visible to our stakeholders as a socially responsible company that is committed to sustainability and the circular economy.
One of the projects we are working on is improving the measurement of ALPLA's carbon footprint in the region. Understanding where we are emitting more greenhouse gases is essential to reducing them and contributing to achieving our global sustainability goals. 
Another ongoing project is to generate alliances, involve ALPLA in forums and conferences with academies and schools, and communicate the work ALPLA is doing to become the most sustainable packaging producer – this includes communicating ALPLA's extensive commitment to the 4Rs: reduce, reuse, recycle and replace.
Also, we really want to generate a positive impact in the communities in which we operate and live. That's why we are also developing environmental projects. For example, in June 2022, ALPLA adopted a green area in a natural park in Toluca, Mexico – Parque ALAMEDA. Our commitment is to reforest it, take care of it and maintain it for three more years to ensure its proper growth.
One of my favourite projects is 'Vida Circular' (Circular Life) as part of the aVoice global initiative. Vida Circular is a campaign born as a 'movement' in favour of the circular economy of plastics. The goal is to raise awareness in public opinion about the benefits of plastic, its correct disposal and recycling it, among other topics. 
What do you find most interesting about working at ALPLA?
Something I find attractive and challenging is working with colleagues in ALPLA and with other organisations to achieve common goals. For example, in transmitting to the public the benefits of plastics in our daily lives and the fact that plastic is the most sustainable material in packaging because it produces far fewer carbon emissions than other packaging solutions. People should know that. 
Plastic pollution is caused by the misuse of products at the end of their useful life, not by the material from which they are made. Communicating this is a big challenge, and we need to keep working on that. 
What is the most important tool for your work?
Work tools like Microsoft Teams, Office and the internet make my daily activities possible. However, there are three tools that have the most significant impact on my daily work, and they are: 
Effective and proactive communication
Teamwork and integrating colleagues in the creation and execution of projects
Self-organisation
What does a typical day at work look like for you?
Every day at ALPLA is entirely different. There are new experiences and new adventures to be had. The first thing I do in the morning is follow up on the ongoing projects. For example, some days, my main focus is on regulatory and public affairs issues. On other days, the focus is on delivering presentations on sustainability for training within ALPLA or with external audiences. Also, on some other days, we must coordinate projects involving various internal ALPLA areas.
It is very dynamic work with many themes taking place at the same time. That makes working at ALPLA an exciting, challenging and rewarding job.
What has been your favourite project/task you have worked on at ALPLA so far?
Vida Circular is an initiative that I love. Ever since the aVoice request came from our headquarters, it has been a project that has had challenges and great satisfaction. 
We started in Mexico in 2021, and in 2022, we decided to expand the campaign to Costa Rica, the Dominican Republic, Panama, Puerto Rico, Guatemala, Honduras and Nicaragua. So now we are a community of more than 30,000 people all interested in sustainability, the plastic circular economy and knowing that ALPLA takes care of both.
We are a great company with rapid expansion and growth. But our responsibility to people and the planet has also been growing in equal measure. People, organisations and governments are more interested in positively impacting the world every day. So it is exciting to be part of the company and contribute, with my work, to delivering sustainable products and executing sustainability projects.
What is your biggest achievement to date – personal or professional?
My biggest achievement is balancing my two main roles: career woman and mother.  Like many other working mothers around the world, I face the challenge of finding the perfect work–life balance. On the one hand, adding value to the company through my work and being a successful career woman. And, on the other hand, raising my kids to become the happiest, healthiest and most incredible boys in the world (Sebastián, four years old, and Emiliano, one year old). This is my most significant personal achievement, but it is also a daily job and a task that I am continuously working on.
If you got one extra hour a day, what would you use it for?
To spend time and have fun with my kids, my husband and my two dogs.
What are your hobbies?
Meditating, baking and playing with my children.
What else should we have asked you?
How do you see the role of women at ALPLA? I am very excited to witness that ALPLA recognises female talent, and has reinforced – in the Global Strategy Goals – the importance of attracting women to the company and developing women in the company. Women have an incredible sense of accomplishing goals, getting things done and building solid workplace relationships. I am sure that having more female colleagues worldwide working at ALPLA will benefit the company. 
Name three things on your bucket list:
Travel more. Iceland is a country I would especially like to visit
Play the cello
Be a speaker at a TED Talk
Please describe ALPLA in your own three words:
Worldwide
Exciting
Family
Do you like our texts? Perhaps even so much that you want to use them in your own media? Then please get in touch with us beforehand!