Hard, 18th March 2021
Global Recycling Day 2021 - ALPLA Milestones
We at ALPLA have been working intensively on the topic of recycling for over twenty years. That is why we have taken this year's Global Recycling Day as an opportunity to look back in particular on the far-reaching developments and measures in this area over the past few years.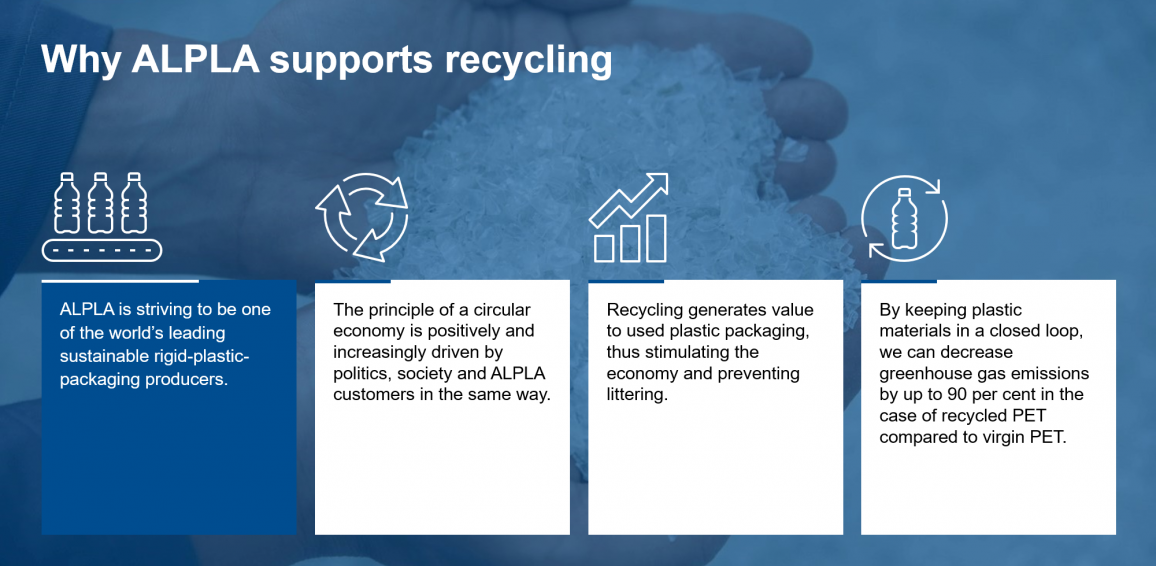 Recycling is an essential part of ALPLA's sustainability strategy. The ALPLA recycling companies' annual capacity (including joint ventures and partnerships) amounts to approximately 130,000 tonnes of PET and 60,000 tonnes of PE. Six recycling plants are operating globally, and four more are projected.
The last three years have been vital for expanding the recycling activities since the signature of the New Plastics Economic Global Commitment led by the Ellen MacArthur Foundation. The following years will be even more active due to the investment of up to € 250m until 2025 to globalize the recycling activities and to close the materials cycle in as many regions as possible.
These are the milestones of ALPLA's recycling activities:
2021
Investment of € 250 million until 2025 to globalise recycling activities.
Investment of € 5 million for the extrusion of 15,000 to rPET per year in Anagni (Italy).
2020
Presentation of a climate-neutral recycling process for PET.
An HDPE recycling plant with an annual capacity of 15,000 tons will be built in Toluca (Mexico). Start of production: autumn 2021.
Doubling of the capacity in Radomsko (Poland) to 30,000 to rPET / year.
2019
Joined an international chemical recycling consortium (BP Infinia).
Entry into HDPE recycling through the takeover of the two Spanish companies Suminco and Replacal.
Cooperation with PTT Global Chemical to build a recycling plant for PET and PE in Rayong (Thailand). Start of production: 2022.
Investment of € 7 million together with FROMM in Wolfen (Germany) to recycle PET from the yellow bag.
2018
Together with Texplast, investment in a third extrusion in Wolfen.
ALPLA signs the New Plastics Economy Global Commitment led by the Ellen MacArthur Foundation, in collaboration with UN Environment.
Do you like our texts? Perhaps even so much that you want to use them in your own media? Then please get in touch with us beforehand!