8th August 2022
Caps with added value
The ALPLA plant in Föritztal, Germany, specialises in caps. Since 2020, it has been developing new products, too. We offer an insight into two unusual projects.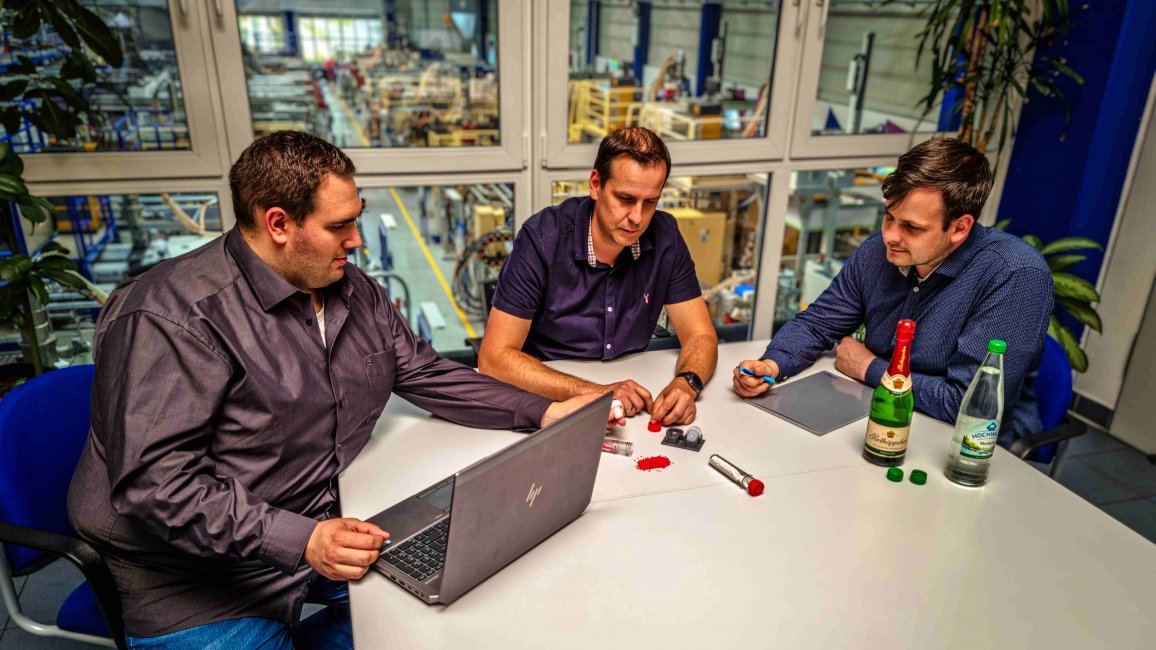 Glass bottles don't actually exist in the world of ALPLA. But even glass bottles need the right cap. It should ideally be light, practical and sustainable. Which is where the plastics experts come into play. Föritztal Plant Manager Maik Göpfert sees a huge opportunity here: 'If we think outside the box and offer optimum caps for third-party containers, we will acquire new customers and develop market segments.'
The internal Development department was established in 2020. Since then, Project Managers David Martin and Justin Maaser have realised numerous projects and caps on-site. There are currently 25 projects. Every new injection-moulded part must generate added value for the customers and for ALPLA – thanks to reduced weight, an optimised shape or greater recyclability. 'We are focusing on regional customers. There is high demand and it continues to increase,' says a delighted Maik Göpfert. Things are therefore looking good for the plant, which is celebrating its 30th anniversary this year. So there is a good chance that sparkling wine corks they produced themselves will be popping at the party.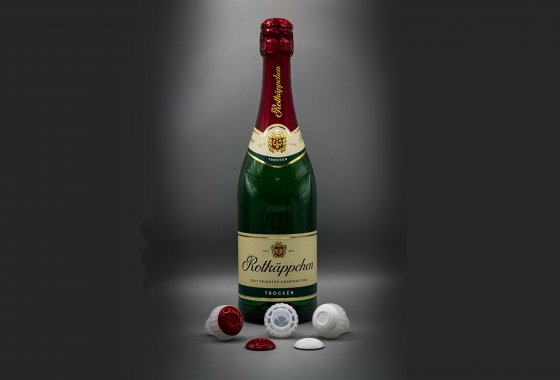 Sustainable sparkling wine corks
Rotkäppchen-Mumm, the market leader in sparkling wine and spirits, is committed to sustainability, focusing on lighter glass bottles, increasing its recycling rate and sourcing materials by rail. There was still more potential in the plastic cork and the company first approached ALPLA in early 2020. 'Developing a cap independently of a bottle was new territory for us,' remembers Project Manager David Martin. 
Sparkling wine caps are forced in rather than screwed on. They have to be able to withstand internal pressure of up to 10 bar for two years. In addition, the cork is made of two parts – an injection moulding challenge. The famous red cap ('Rotkäppchen' means 'little red cap' translated into German) is made of HDPE, while the stopper made of softer LDPE balances out the pressure. A ten per cent weight reduction was achieved together with the mould shop in the companies headquarter in Hard, Austria – with no deterioration in quality or mechanical losses.
The cork has been in production since April, and 70 million are currently being produced a year. 'The showpiece product for the market leader is our entry ticket,' says Martin, delighted. For even greater sustainability, he is currently working on closure systems made of recycled material or bio-based plastic.
Easy-to-open mineral water cap
A convenient cap for reusable glass bottles which is suitable for the elderly was the aim of a project managed by Justin Maaser in 2019. Elderly consumers of mineral water repeatedly complained about difficulties with opening glass bottles. Following a number of simulations, the Foeritztal plant succeeded in developing a very easy-grip cap. 'It's easy to open, but it nevertheless closes securely and robustly,' explains Maaser.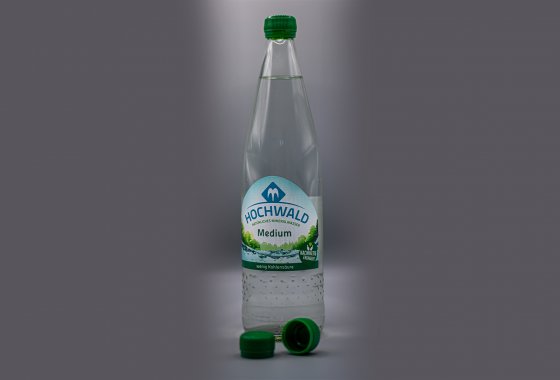 Numerous reusable glass bottles throughout Germany have featured the hand-friendly caps since April. There is huge potential of up to 4.5 billion caps a year in Germany alone. 'With this practical cap, we are making life easier for many people,' says Maaser with conviction. 500 million caps are expected to be produced in the first year. And one thing's for sure – establishing the Development department has already paid off.
Do you like our texts? Perhaps even so much that you want to use them in your own media? Then please get in touch with us beforehand!